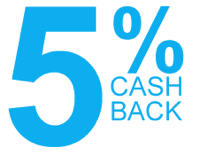 Activation reminder for 1st Quarter 2020. The credit cards below offer up to 5% cash back on specific categories that rotate each quarter. It takes a little extra attention, but it can add up to hundreds of dollars in additional rewards per year without changing your spending habits. You can also buy gift cards with the 5% back now but spend the gift cards later. New cardmembers may also get an upfront sign-up bonus.
From January 1st through March 31st, 2020 you can earn 5% cash back on up to $1,500 spent in the following categories:
Gas Stations
Internet, Cable & Phone Services. Internet, cable, satellite television and radio, cellular, wireless data, and landline services will qualify.
Select Streaming Services. The full list is Disney+, Netflix, Hulu, Sling, Vudu, Fubo TV, Apple Music, SiriusXM, Pandora, Spotify, YouTube TV, and ESPN+.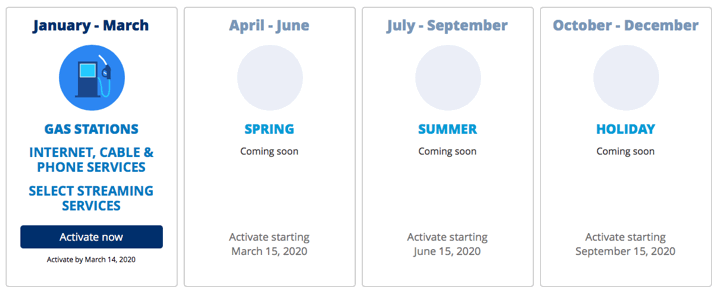 Enroll each quarter at ChaseBonus.com. As long as you activate by the end of the quarter the rewards are retroactive. All other purchases earn 1% back, with no tiers or expiration of rewards. Technically, you earn Ultimate Rewards points which can also be converted to airline miles or hotel points instead of cash if you have a Chase Sapphire Preferred or Chase Sapphire Reserve card. Currently, the Chase Freedom card is offering $150 bonus cash back if you sign up and make $500 in purchases in your first three months. No annual fee.
From January 1st through March 31st, 2020 you can earn 5% cash back on up to $1,500 spent in the following categories:
Grocery Stores. Does NOT include Walmart nor Target.
Walgreens
CVS

Enroll after logging into your online account (look on the right-hand side). 5% rewards won't apply until after you activate your rewards, so it is best to activate now before you forget. No annual fee.
New cardmember bonus details. If you are a new applicant and sign up via my Discover Card referral link, you will get a $50 Cashback Bonus after your first purchase within 3 months of being approved. You will also get Cashback Match for an entire year – a dollar-for-dollar match of all the cash back you've earned at the end of your first year, automatically. During those 12 months, your $50 Cashback Bonus becomes $100, your 5% cash back rewards becomes 10% cash back, and your 1% cash back rewards become 2% cash back. You can verify this on the application by clicking on "See rates, rewards and other info" and searching for "cashback match" and "statement credit offer":
Cashback Match: No purchase minimums. After the first 12 consecutive billing periods that your new account is open, we will match all of the cash back rewards you've earned and apply them to your account in the following one or two billing periods. If your account is closed or no longer in the cash back reward program at the time we calculate your potential award, your cash back will not be matched. You've earned cash back rewards when they have posted to your account by the end of the 12th consecutive billing period. This promotional offer may not be offered in the future. This exclusive offer is available only to new cardmembers.
TERMS OF STATEMENT CREDIT OFFER: Get a $50 Statement Credit after you make your first purchase within 3 months of being approved. Promotional award will be applied within 8 weeks. The promotional award is in addition to the Cashback Bonus earned on all purchases.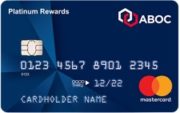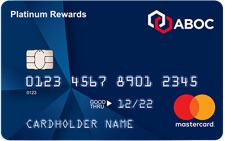 ABOC Platinum Rewards Card – $150 Statement Credit Offer
From January 1st through March 31st, 2020 you can earn 5X rewards on up to $1,500 spent in the following categories:
Monthly Bills, including qualifying utilities, cell, cable, Amazon Prime and streaming subscription services purchases. They list the eligible MCC codes, including those of utilities, cell phones, cable, streaming, and subscription services.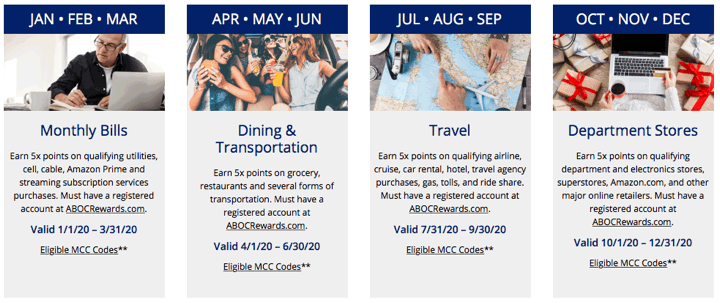 You must register each quarter at ABOCRewards.com or in your online account. Currently, the ABOC Platinum Rewards Mastercard is offering a $150 statement credit if you sign up and make $1,200 in purchases in your first 90 days. No foreign transaction fees. No annual fee.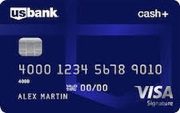 U.S. Bank Cash+ Visa Signature Card. You get to choose the two 5% cash back categories every quarter, out of a preset selection of specific categories:
Fast Food
Cell Phone Providers
Home Utilities
Ground Transportation
Select Clothing Stores
Electronics Stores
Car Rentals
Gyms/Fitness Centers
Sporting Goods Stores
Department Stores
Furniture Stores
Movie Theaters
TV, Internet, and Streaming Services
Unfortunately, you can't pick a broad category like gas stations, restaurants, or grocery stores. Make sure to choose your categories each quarter, even if you want them to stay the same. If you do not choose your categories, all purchases revert to only earning 1% cash back for that quarter.
Currently, the U.S. Bank Cash+ Visa card is offering $150 bonus cash back if you sign up and make $500 in eligible net purchases in your first 90 days. No annual fee.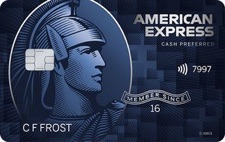 American Express Blue Cash Preferred Card. This card earns 6% cash back at US supermarkets all year long (on up to $6,000 per year) and. 3% cash back at US gas stations. New: 3% cash back on transit and 6% cash back on Netflix/Spotify/Hulu. I use this card all year long for groceries, and then in December use up the $6k annual limit on gift cards bought in the supermarket aisle. New cardholders are also eligible for a $250 statement credit after $1,000 in purchases within the first 3 months. $95 annual fee. See details in link.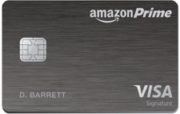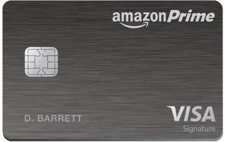 Amazon Prime Rewards Card. Earn 5% back at Amazon.com and Whole Foods all year long. Prime membership required. 2% cash back at restaurants, gas stations, and drugstores (yawn… see below). New cardholder bonus varies by person. No annual fee.
Citi Dividend Card. This card is no longer available to new applicants, but if you still have the grandfathered card you can view and activate your quarterly 5% category here. Limit of $300 cash back for the calendar year.
Don't settle for the "1% on everything else" that these cards offer. Get 2% cash back or higher. Check out the card-specific reviews for details.
"The editorial content here is not provided by any of the companies mentioned, and has not been reviewed, approved or otherwise endorsed by any of these entities. Opinions expressed here are the author's alone. This email may contain links through which we are compensated when you click on or are approved for offers."
5% Cash Back Cards: Gas Stations, Internet/Phone/Streaming, Grocery Stores – January thru March 2020 from My Money Blog.
---
Copyright © 2019 MyMoneyBlog.com. All Rights Reserved. Do not re-syndicate without permission.