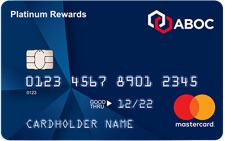 The ABOC Platinum Rewards Credit Card just got revamped to include 5X rewards on rotating categories each quarter. This card is a Mastercard issued by the Amalgamated Bank of Chicago (ABoC), a 100+ year-old commercial bank. Right now, it is offering a $150 sign-up bonus to new cardholders (see requirements below). There are a few quirks, so read on for the details.
$150 statement credit after making $1,200 in purchases within the first 90 days of account opening. Your account must be open and in good standing to get the bonus.
Earn 5x rewards on up to $1500 in combined purchases each quarter in popular categories such as dining, groceries, travel, and automotive.
0% intro APR on purchases and balance transfers for 12 months. After that, your APR will vary with the market based on the Prime Rate. You must transfer your balance within 90 days of your account open date for the promotional APR to apply.
Late payments will not result in a higher interest rate.
No annual fee.
2019 ABoC Platinum Rewards Calendar
You will earn 5 points per $1 spent up to $1500 in combined purchases each quarter. Here is the entire calendar for 2019: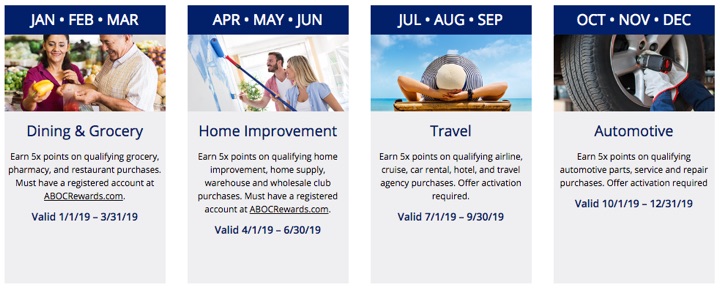 From January 1st through March 31st, 2019 you can earn 5X rewards on up to $1,500 spent in the following categories:
Grocery
Pharmacy
Restaurants
You must first register each quarter at ABOCRewards.com or in your online account before you can start earning the 5X rewards.
Points redemption. You'll note that it says 5X rewards, not 5% cash back. That is because you technically earn points, and the points can be transferred to travel, cash (in the form of a statement credit), gift cards, and merchandise at different ratios.
The best redemption rate is redeeming towards their travel portal at 1 point = $0.01 in value. There are limited details about this on their website. The key question is whether an airfare ticket or hotel night costs the same on the ABOC travel portal as on Expedia, Travelocity, etc. The cash back option is 1 point = $0.0075, which would turn the 5X rewards into 3.75% straight cash back in the form of a statement credit. The gift card redemption value is in between cash and travel credit, and may be worthwhile if its a merchant you shop at anyway.
Similar cards. I will be adding this card to my list of 5% back cards with rotating categories, including:
I would personally get the Chase Freedom and Discover it ahead of this card, if only because they offer a straight 5% cash back on their rotating categories without having to go through a travel portal. However, if you already have those cards, this card would make a nice addition as the category calendars are not exactly the same, and you will get increased spending limits even if they do happen to match up.
Bottom line. The ABOC Platinum Rewards Credit Card offers a sign-up bonus and 5X rewards on rotating categories each quarter. The 5X points can be redeemed for an effective 3.75% cash back, or 5% back through their travel portal. If you already have similar rewards in your purse or wallet, this card can be a great addition as you can achieve higher spending limits and also possibly different categories in any given quarter.
"The editorial content here is not provided by any of the companies mentioned, and has not been reviewed, approved or otherwise endorsed by any of these entities. Opinions expressed here are the author's alone."
ABOC Platinum Rewards Credit Card Review – 5X Rewards on Rotating Categories from My Money Blog.
---
Copyright © 2018 MyMoneyBlog.com. All Rights Reserved. Do not re-syndicate without permission.