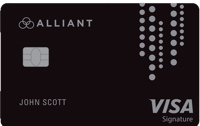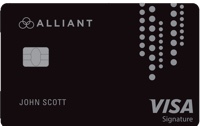 Updated with new spending caps. Alliant Credit Union, the 5th largest US credit union by assets, has updated the terms of their Alliant Visa Signature Credit Card. This cash back rewards card has a headline feature of 2.5% cash back. However, they have now added a spending cap of $10,000 per monthly billing cycle (i.e. you can get $250 cash back max per month). The $99 annual fee is waived during the first year (note that the 3% cash back promo during the first year is also gone). Here are all of the highlights:
2.5% flat cash back with no categories to track.
Maximum cash back is $250 ($10,000 in qualifying purchases) per billing cycle.
$99 annual fee, waived the first year.
No foreign transaction fees.
You must be an Alliant Credit Union member to apply for this card.
Cardholders can choose to receive cash back rewards via a credit card statement credit (appearing within one billing cycle) or as a deposit into your Alliant checking or savings.
If you have an existing Alliant credit card, you can ask for it to be converted to this card.
The $10,000 spending cap per month will also apply to existing cardholders.
Comparison numbers against a 2% cashback card with no annual fee and no sign-up bonus. Instead of a flat sign-up bonus, with this card you are basically getting a 0.5% boost to your cash back in the first year. If you charge $1,000 a month, 1% more is $60 more cash back over a year. If you charge $4,000 a month, 0.5% more is $240 more cash back over a year.
After the first year, with this card you'll get 0.5% more cash back but also pay the $99 annual fee. That makes the breakeven point $19,800 per year in annual spending (roughly $1,650 per month). If you spend more than that, the extra cashback will offset the annual fee. If you spend less, you will have more rewards with the 2% card.
Competition. The following cards currently offer a competitive level of cash back rewards. Please read my card-specific reviews for details.
Alliant CU membership eligibility. If you start the online membership application, it does a good job of walking you through their various eligibility options. The good news is anyone that is willing to donate $10 to Foster Care to Success is able to join. Here are their membership groups:
Any employee or retiree of a Qualifying Company.
Any member of a Qualifying Organization.
Any immediate family member of an existing Alliant member.
Anyone who lives or works in a Qualifying Chicagoland Community.
Anyone who is willing to make a one-time $10 donation to the Foster Care to Success charity group.
Bottom line. The Alliant Visa Signature Credit Card offers 2.5% flat cash back on all purchases with a $99 annual fee. As a first year promotion, the annual fee is waived. The annual fee makes it best for people that make a high amount of purchases on their credit cards, at least $20,000 a year just to break even with a 2% cash back card. Alliant Credit Union membership is open to anyone willing to donate $10 to Foster Care to Success.
"The editorial content here is not provided by any of the companies mentioned, and has not been reviewed, approved or otherwise endorsed by any of these entities. Opinions expressed here are the author's alone. This email may contain links through which we are compensated when you click on or are approved for offers."
Alliant Credit Union Visa Signature Card Review: 2.5% Cash Back (Up to $10k/Month) from My Money Blog.
---
Copyright © 2019 MyMoneyBlog.com. All Rights Reserved. Do not re-syndicate without permission.