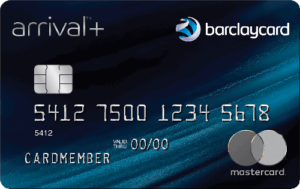 (Updated. The sign-up bonus has been raised to 60,000 points, the highest ever. $89 annual fee. Details below.)
The Barclaycard Arrival Plus(TM) World Elite MasterCard® is a travel rewards card with 60,000 point sign-up bonus (worth $600 toward travel statement credits) and 2X miles on every purchase. Note that this card is different from the Barclays Arrival Premier World Elite Mastercard. Here are the card highlights:
Enjoy 60,000 bonus miles after spending $5,000 on purchases in the first 90 days and paying the annual fee
Earn unlimited 2X miles on every purchase
Book travel your way—no airline, seat or hotel restrictions—and redeem your miles for travel statement credits
Get 5% miles back to use toward your next redemption, every time you redeem
No foreign transaction fees
International Chip and PIN for use at self-service chip terminals around the world
Miles don't expire as long as your account is open, active and in good standing
$89 annual fee
Rewards program details. With this card, you earn 2 miles per $1 spent on all purchases. There are no special categories. These miles (easier to think of them as points, really) are then redeemable towards travel booked from any merchant or retailer classified as Airlines, Travel Agencies & Tour Operators, Hotels, Motels & Resorts, Cruise Lines, Passenger Railways and Car Rental Agencies. You can redeem towards any airline on any date.
First, visit any booking site (Delta.com, Expedia.com, Hilton.com, Hotels.com, etc) and buy a ticket with this credit card. You don't need to use any specific portal. Let's say you buy an airplane ticket for $250. Then, you visit your Barclaycard account website and you'll offset your purchase. You'll redeem 25,000 "miles" and see a $250 statement credit on your statement. I've done this multiple times, and it always went smoothly with no issues.
Travel statement credit redemptions start at 10,000 miles for $100 toward a qualifying travel purchase of $100 or more made within the last 120 days. For example, you could use 10,000 points for a $100 credit towards a $200 plane ticket, if you wished.
On top of that, the card gives you a 5% miles rebate when you redeem for any travel. So if you redeemed 50,000 miles, you would get 2,500 back in your account after about a week. Although this adds a layer of complexity, you can calculate that technically getting $500 of value out of 47,500 miles at 2X miles/$ spent works out to 2.11% cash back towards any travel. Everything else (gift cards, merchandise) offers a worse redemption ratio, so don't bother.
Comparison with alternatives. 2X miles is nice and the rebate adds a bit extra. However, this card also has an $89 annual fee. So for the first year you're good, but the competition offers multiple cards earning 2% cash back with no annual fee. A few examples:
You would have to put over $80,000 in purchases on this card annually in order to get the 0.11% advantage to offset the $89 annual fee (after the 1st-year waiver). That's a big number. Now, I could have used 8,900 miles out of my 60,000 point bonus to offset the $89 annual fee.
Bottom line. The Barclaycard Arrival Plus(TM) World Elite MasterCard® is a travel rewards card that earns double miles on all purchases (even more with the 5% rebate). The sign-up bonus has been raised to 60,000 points – worth $600 in travel statement credits – the highest ever for this card. This is offset by the $89 annual fee. I like to see a $500 net value over the first year to get me to try out a new card, and this card satisfies that hurdle.
Barclaycard Arrival Plus World Elite MasterCard Review: 60,000 Bonus Miles from My Money Blog.
---
© MyMoneyBlog.com, 2018.