Does the New Year have you motivated to give your retirement account a tune-up? As opposed to many other online advisors, Blooom.com (with three Os) focuses on providing advice for 401k, 403b, 457, and TSP accounts by offering both a free 401k analysis and charging a flat $10/month fee for ongoing portfolio management and CFP advice. They don't require you to move any money over to them.
Free 401k analysis screenshots. Anyone can sign up for their free 401k analysis with no commitment. They don't ask for last name or credit card information.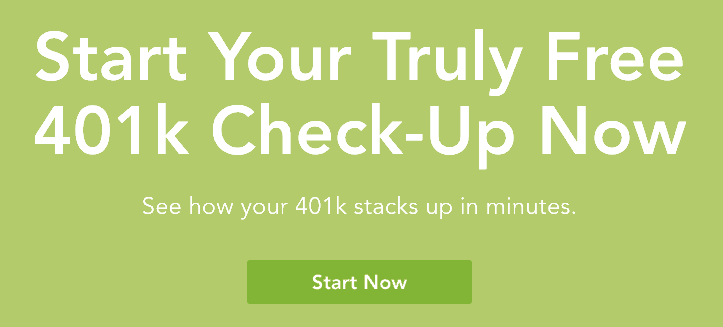 1. They ask you for first name, current age, and retirement age. You don't need to be super-specific here, they just want some basic information to create your target asset allocation and time horizon.
2. They ask you short risk questionnaire. I'm still not convinced of the validity of finding your risk tolerance via a few multiple choice questions, but I suppose this is the most practical way to at least get you in the ballpark. They had me at 68% stocks and 32% bonds, which is actually really close to my actual stock/bond mix.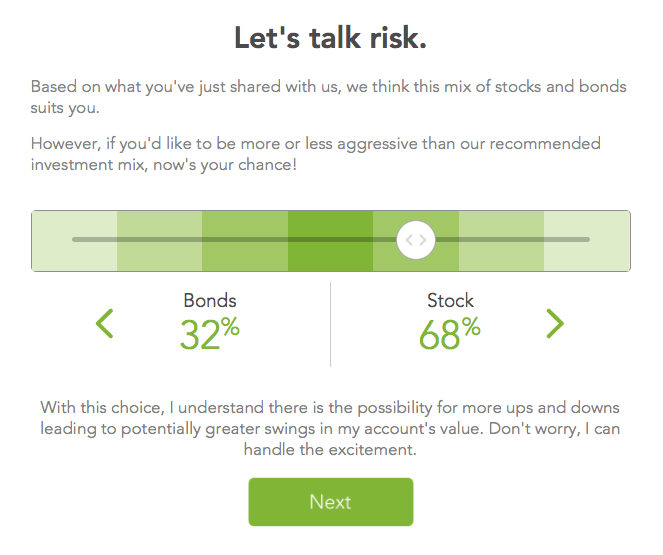 3. Provide your login credentials. Blooom will automatically pull in your 401k holdings and other information when you provide them your username and password. This is similar to how I track my own portfolio via Personal Capital. It took them a couple of minutes to crunch everything.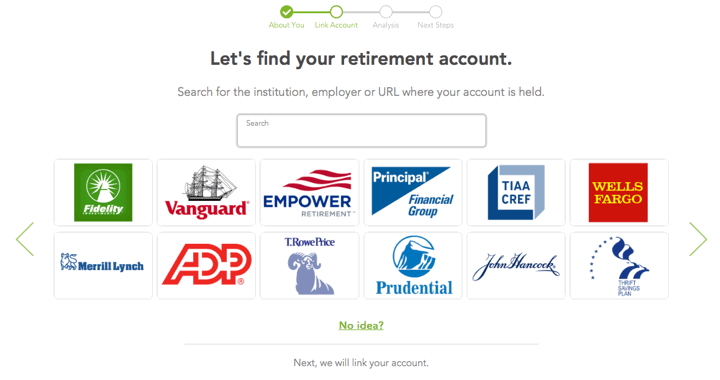 4. Analysis results and screenshots. They first give you an overall report card. Looks like I have a lot to work on: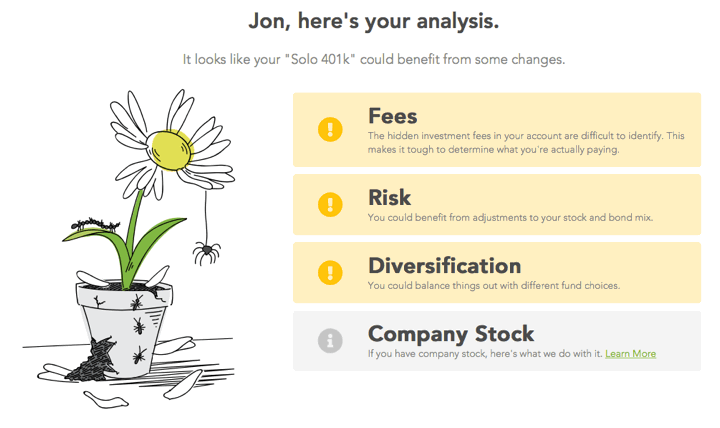 Next, they told me about the fees that I am paying. It appears that because my fees were "difficult to identify", they used an average number based on all of their clients. I'm guessing this is because I have a lot of non-mutual-fund holdings in my Solo 401k.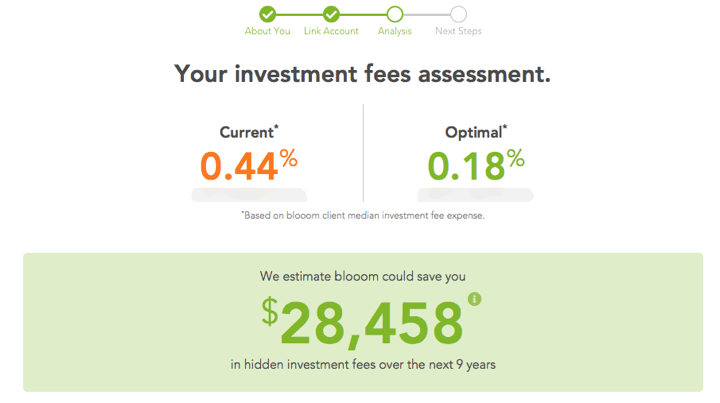 They then analyze asset allocation, identifying the mutual funds and assigning the proper asset class. They they compare with their recommended asset allocation for you: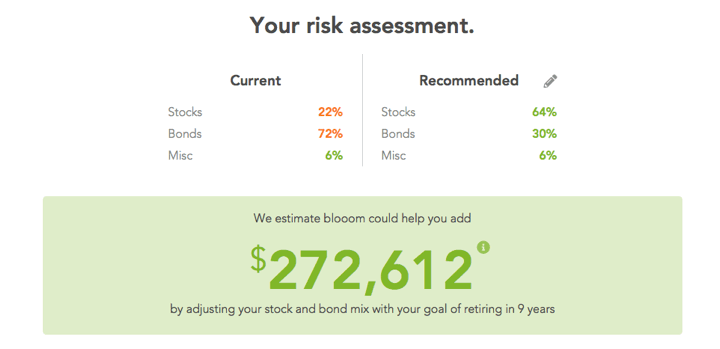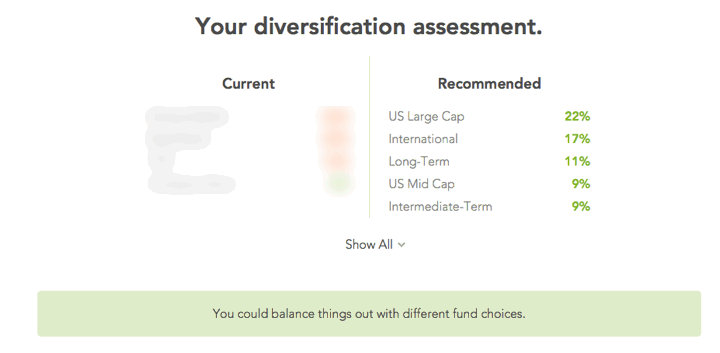 Free 401k analysis review. My main concern about this analysis is that it only takes into account your 401k. If your 401k is your only retirement savings, then this is fine. However, my 401k is only a portion of my overall portfolio. In addition, I use tax-efficient asset placement, so my 401k mostly holds REITs and TIPs. While their asset allocation breakdown of my actual funds was mostly correct, I was never going to be close to their target mix. This prevented me from getting value out of this service.
Paid management service review. Here's what the paid service includes:
Fee analysis. Each mutual fund you own charges an expense ratio that is quietly taken out of your balances daily. There may also be additional administrative fees charged by your provider.
Asset allocation advice. They will come up with a mix of stocks and bonds that are appropriate for your age, and time horizon. Their suggested asset allocation advice is in line with that of other robo-advisors.
Rebalancing service. Blooom will rebalance your assets periodically back towards your target values. They'll help you maintain diversification across asset classes like US stocks, international stocks, safe bonds, etc.
Chat with Certified Financial Planners. You can e-mail or Live Chat with a Certified Financial Planner (CFP) about any financial topic, not just 401ks.
Fiduciary advice. Blooom is a Registered Investment Advisor (RIA) and pledges a fiduciary duty under the law to give advice in your best interest only. This is an important detail!
Blooom has settled on a flat $10 a month fee for ongoing 401k management and advice. This is the same if you have $10,000 or $10 million. Flat fees end up being a high percentage of small accounts though, for example on $10,000 that ends up being 1.2% a year. My personal opinion is that if you have few thousand dollars or less, you should buy the cheapest S&P 500 index fund (or a low-cost Target Date fund) in your 401k and focus on increasing your contribution rate. You don't need to pay $10 a month for advice right now. Asset allocation isn't that important yet. Of course, the financial advisor access may be worth more than $10 a month by itself (see below).
While flat fees don't work out mathematically for small accounts, you will start to save money as your account grows when compared to a percentage-based fee. Once you reach about $50,000 in assets, paying a flat $10 a month becomes cheaper than paying 0.25% of your assets annually.
If you had a solid low-cost, diversified Target Retirement fund from Vanguard, Fidelity Index Series, or Schwab Index Series, you may not need to pay for extra advice either. The asset allocation, rebalancing, and growing more conservative over time is all baked-in. The problem is that there are a lot of bad Target Retirement funds out there that have added layers of fees, stuffed with expensive questionable funds, and chase performance.
The hidden deal? You can get ongoing financial advice from a human CFP for only $10 a month! I think the most overlooked feature of the Blooom paid service is that they include the ability to Live Chat (text) or e-mail with Certified Financial Planners with no minimum balance requirement. A real human CFP, not some AI bot!
DID YOU KNOW blooom clients have access to a CFP? Just ping us on chat, email, Morse code, singing telegram, Pony Express… well, you get the idea, we are accessible.
You are welcome to ask questions about topics outside your 401k:
Ask our advisors any financial questions you have… even beyond 401ks! […] We go beyond retirement advice. Thinking about how a puppy or new car might affect you financially? Give us a whirl! Whether it's $20 or $20,000, we want all our blooom members to make smart decisions about their finances.
I don't know of any other place I can get a CFP to chat with me for ten bucks. For example, Betterment won't let you have CFP access until you have $100,000 held with them (and 401k assets don't count). You could always pay $10 for the first month and see how you like their CFP advice, as there is no contract on the monthly plan.
Bottom line. Blooom is an online financial advisor that manages 401k/403b/TSP employer retirement accounts. This works out if the majority of your retirement assets are in such a plan. They offer a free 401k/403b analysis to try them out. Above that, they will manage your funds and provide chat/e-mail access to a Certified Financial Planner for a flat $10 a month. This is one of the cheapest ways I know of to chat and email with a human Certified Financial Planner.
Disclosure: I have an affiliate relationship with Blooom. If you try out the free 401k analysis, I get nothing. If you end up being a paid member of Blooom through one of the links above, I will get a commission at no extra cost to you. All content and opinions remain my own.
"The editorial content here is not provided by any of the companies mentioned, and has not been reviewed, approved or otherwise endorsed by any of these entities. Opinions expressed here are the author's alone."
Blooom Review 2019: Free 401k Analysis + Human CFP Financial Advice For $10 a Month from My Money Blog.
---
Copyright © 2018 MyMoneyBlog.com. All Rights Reserved. Do not re-syndicate without permission.