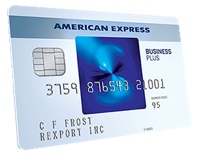 The Blue Business Plus Credit Card from American Express is a business rewards card that features double Membership Rewards points and no annual fee. There is also currently a 10,000 point welcome bonus offer that ends 9/26/18. Therefore, if you can redeem for more than 1 cent per point of value, this card has the potential to beat a flat 2% cash back card. Here the highlights:
Limited time offer. 10,000 Membership Rewards points welcome bonus after you $3,000 in purchases in the first 3 months.
2X Membership Rewards points on the first $50,000 in purchases each year. 1X Points on purchases thereafter.
0% introductory APR on purchases and balance transfers for 15 months, then a variable rate, currently 12.99%, 16.99% or 20.99%, based on your creditworthiness and other factors.
No annual fee.
Note the usual language regarding the sign-up bonus. This is a newer card, but you can only get the sign-up bonus once per lifetime.
Welcome bonus offer not available to applicants who have or have had this product.
Better than 2% cash back? Membership Rewards points can be converted to the following airline miles (there are more, this is just a selection):
Delta SkyMiles
Hawaiian Airlines
ANA Mileage Club (partner of United Airlines)
Air Canada (partner of United Airlines)
British Airways (partner of American Airlines)
FlyingBlue (Air France/KLM)
Virgin Atlantic
Virgin America
If you value any of these miles at more than 1 cent per mile, then you would be getting more value than a 2% cash back card. For example, this card can earn the equivalent of 2 Delta miles per dollar spent.
Unfortunately, there are many redemption options for Membership Rewards points that are worse than 1 cent per point value. Here are a few examples:
Shop with Membership Rewards Points (~0.5 cents per point)
Shop with Points at Amazon.com (~0.7 cents per point)
Use points at BestBuy.com (~0.7 cents per point)
Gift Cards (varies from 0.5 up to 1 cent per point max)
If you don't expect to get at least 1 cent per mile value, then you should stick with a 2% cash back card.
Business credit card eligibility. Many people aren't aware that they can apply for business credit cards, even if they are not a corporation or LLC. Any individual can be a small business. Perhaps you sell items on eBay, Craiglist, or Etsy. Maybe you do some graphic design, web design, freelancing and/or consulting. If you received a 1099-MISC tax form and filled out a Schedule C, that means you have business income, you pay self-employment taxes, and you're a sole proprietorship. This is the simplest business entity, but it is fully legit and recognized by the IRS. On a business credit card application, you should use your own legal name as the business name, and your Social Security Number as the Tax ID.
This card will require you to personally guarantee that you'll pay them back what you charge on the card, which means they'll check your personal credit score like any other consumer card. However, as the card is a business card, American Express won't have it show up on your personal credit report, so it won't change things like your credit limits, average account age, or credit utilization ratio.
Bottom line. The Blue Business Plus Credit Card from American Express is a unique small business card in that it earn 2X Membership Rewards points on ALL purchases up to $50,000 per year with no annual fee. The ability to transfer to miles means that you're effectively earning 2X miles per dollar spent with no annual fee. Finally, linking this card also allows you keep Membership Rewards points earned from other cards active while having no annual fee.
Blue Business Plus Card from American Express Review: 10,000 Point Bonus, 2X Points on All Purchases Up to $50k/Year from My Money Blog.
---
© MyMoneyBlog.com, 2018.