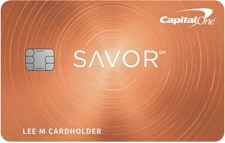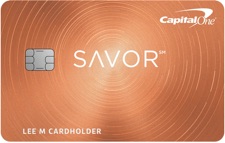 Does dining out and take-out describe your daily ritual? Capital One has refocused their Capital One Savor Cash Rewards Credit Card with a new $500 sign-up bonus, waived first year annual fee, and a big 4% cash back at restaurants. Here are the highlights:
$500 cash bonus after $3,000 in purchases within the first 3 months.
4% cash back on dining and entertainment, 2% at grocery stores and 1% on all other purchases.
No foreign transaction fees.
No annual fee for the first year, $95 after that
Capital One cardholders get access to premium experiences in dining, entertainment and more.
Capital One says that existing Savor cardholders will be upgraded to the 4% back on dining and other features of the Savor, but will have their annual fee waived indefinitely. No sign-up bonus, though!
Purchase rewards details. Notable about this card is the 4% back on dining and entertainment. 4% is higher than most other rewards cards that offer some sort of boost on restaurant purchases, such as the Costco Anywhere Visa (my review) with 3% on restaurants (amongst other rewards categories), however it does charge an annual fee. Often one of the rotating 5% cash back cards has restaurants as a category.
If you already have one of those cards above, you'd have to spend decent chunk on dining out to justify paying that $95 annual fee after the first year. That $500 first-year bonus will buy a lot of grub, though! Of course, if you do dine out often, you might actually take advantage of their free Concierge service to help you get reservations at high-demand spots.
In case you were curious, the application page provides some direct clarifications on the rewards structure.
What counts as dining?
Purchases at restaurants, cafes, bars, lounges, fast-food chains and bakeries.

What counts as entertainment?
Buying tickets to a movie, play, concert, sporting event, tourist attraction, theme park, aquarium, zoo, dance club, pool hall or bowling alley. Also, making purchases at record store and video rental locations. This excludes non-industry entertainment merchant codes like cable, digital streaming, and subscription services.

What counts as a grocery store?
A supermarket, meat locker, freezer, dairy product store and specialty market. Excludes superstores like Walmart® and Target®.
Statement credits. The rewards on this card are nice and simple. You earn cash, which can be redeemed as a statement credit or a mailed check. There are other options, but none are especially interesting or more valuable than cash.
Credit approval details. This card says it requires "Excellent credit". Capital One is known to limit you to two consumer Capital One credit cards per person. They are also a bit unusual in that they pull your credit reports from all three major bureaus, instead of just one.
Bottom line. The Capital One Savor Cash Rewards Credit Card has a new $500 sign-up bonus, waived first year annual fee, and 4% cash back on dining and entertainment. The total first-year value of this card is over $500, which makes it worthy of mention. Note the $3,000 of total spending required within 3 months – maybe it's your turn to put group dinner on your card and have everyone else pay you back to take advantage of that 4% back.
The high first-year value puts this card on my list of Top 10 Best Credit Card Bonus Offers.
"The editorial content here is not provided by any of the companies mentioned, and has not been reviewed, approved or otherwise endorsed by any of these entities. Opinions expressed here are the author's alone. This email may contain links through which we are compensated when you click on or are approved for offers."
Capital One Savor Cash Rewards Credit Card Review – $500 Bonus + 4% Back at Restaurants from My Money Blog.
---
Copyright © 2018 MyMoneyBlog.com. All Rights Reserved. Do not re-syndicate without permission.