Bonus back up to $100. With rates drops everywhere and no end in sight, I've been picking up various cash bonuses instead. Chime is a popular fintech bank app with a $100 cash bonus (up from $50) after a payroll direct deposit of $200+ within the first 45 days of new account opening. To get this offer, you must be referred by an existing user. Here is my Chime $100 referral link. Thanks if you use it! It's a very simple bonus. Here is a screenshot of my bonus (when it was only $50) appearing nine minutes after my direct deposit: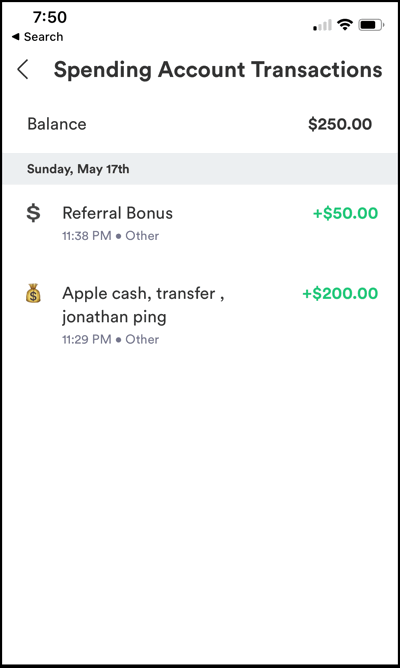 Here is the fine print:
In order for the referring Chime member ("Referrer") to qualify and receive the $100.00 monetary referral reward and $10.00 temporary SpotMe Base Limit increase referral reward, and for the referred person ("Referred") to qualify and receive the $100.00 monetary referral reward, all of the following conditions must be satisfied: (1) Referrer is part of the SpotMe Referral Incentive referral reward campaign; (2) Referred has not previously opened a Chime Spending Account ("Account"); (3) Referred opened a new Account between August 6, 2021 and December 31, 2021; (4) Referred opened the new Account using the Referrer's unique referral link; and (5) Referred received in the new Account a qualifying direct deposit of $200.00 or more within 45 calendar days of opening. A qualifying direct deposit must be made by the referred individual's employer, payroll provider, or benefits payer by Automated Clearing House (ACH) deposit. Bank ACH transfers, Pay Friends transfers, verification or trial deposits from financial institutions, peer to peer transfers from services such as PayPal, Cash App, or Venmo, mobile check deposits, and cash loads or deposits are not qualifying direct deposits.
Why is Chime so popular? Chime is the second-most popular online-only bank in the US (only behind Ally) with over 3 million customers and a recent valuation of $5.8 billion as of November 2020. (Update: Now 5 million customers and $25 billion valuation as of August 2021!) I learned that Chime is very attractive to those who are "unbanked" or underbanked", those people who don't like traditional banks due to their monthly fees and $35-a-pop overdraft charges. Instead, Chime offers:
No monthly fees. No minimum balance. No minimum opening deposit.
No credit check. No Chexsystems check.
Access to paycheck 2 days early. If you usually get paid on Friday, you can spend the money on Wednesday.
No overdraft fees, and they may even "spot" you up to $100 until you pay them back.
Free ATM withdrawals at 38,000+ MoneyPass and Visa Plus Alliance ATMs.
No foreign transaction fees.
For many folks that have a lot of activity but maintain a low balance, this fee structure is better getting 4% APY or even 10% APY. The key is avoiding those crazy overdraft charges from the big banks and also the various $2 fees hidden inside many prepaid cards. Chime's only major fee is a $2.50 fee if you make a cash withdrawal at an out-of-network ATM. Chime earns revenue via interchange fees when you buy things on your debit card.
As I opened an account, I noticed that Chime treats you like have never had a checking account before. The sign-up is easily done completely on your phone in a few minutes. You don't need to deposit a single cent to open. They send basic "Chime 101" emails explaining the effect of bank holidays and how to set up direct deposit.
There is no credit check, so you can have bad credit and even a bad Chexsystems record (meaning you probably left another bank with a negative balance). Nearly every major bank uses Chexsystems to screen new customers. Otherwise, they are referred to as a "second chance" bank account. Chime might have the lowest fees of all such "second chance" banks.
Savings account at 0.50% APY. Once you open the main Chime checking account, you can also open a separate savings account that pays a competitive (but no longer outstanding) 0.50% APY. No minimum balance and no monthly fees on the savings account, either.
Chime has the most of other bank stuff as well. Debit card. Paper check deposit via mobile app. FDIC-insured via partner banks, either Stride Bank or The Bancorp Bank. The only major thing missing besides bank branches is that they don't provide paper checks. Depositing cash is available, but the third-party physical stores may charge a fee.
Added: I am able to deposit and withdraw fund via Ally Bank push/pull. Your routing number and account number is available openly in the app under "Move Money > Direct Deposit". My routing number is 103100195, which ABA.com confirms as Stride Bank, NA. based in Enid, Oklahoma.
Bottom line. Chime is an interesting bank startup that targets the underbanked and unbanked by offering a much better fee structure to those with access to direct deposit. No overdraft fees, no credit checks, no Chexsystems. Currently, there is a $100 bonus available via referral link and a no-minimum savings account paying 0.50% APY.
"The editorial content here is not provided by any of the companies mentioned, and has not been reviewed, approved or otherwise endorsed by any of these entities. Opinions expressed here are the author's alone. This email may contain links through which we are compensated when you click on or are approved for offers."
Chime Banking App Review: $100 Cash Bonus via Referral, 0.50% APY on Savings from My Money Blog.
---
Copyright © 2004-2021 MyMoneyBlog.com. All Rights Reserved. Do not re-syndicate without permission.