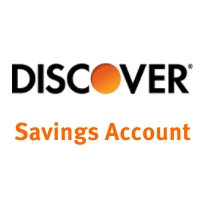 Discover Bank has a refreshed bonus for their online savings account that equates to a solid effective interest rate. If you open a new account through this promotion link by 2/4/19 and use the offer code NPBE119, you can receive one of the following bonuses:
Deposit at least $15,000 by 2/18/19 to earn a $150 bonus, or
Deposit at least $25,000 by 2/18/19 to earn a $200 bonus.
Thanks to reader Jared for the tip. If the link above stops working, here is a similar offer expiring 1/31/19 with promo code SAVE119E1.
The Discover Online Savings Account has a current interest rate of 2.10% APY as of 1/21/19, which is a competitive rate although the highest available is currently 2.45% APY. There are no minimum balance requirements and no monthly fees. Interest is compounded daily and paid monthly.
If you deposit the minimum amount of $15k, the $150 bonus is effectively another 1% of your initial deposit. The $200 bonus on $25,000 deposited is a lower percentage, but still pretty good. There is no fixed minimum time period where you have to keep the money there after getting the bonus, so your effective ROI can be quite high. Keep in mind that you must still have an open account for the bonus to post.
Offer not valid for existing or prior Discover savings customers or existing or prior customers with savings accounts that are co-branded or affinity accounts provided by Discover. Account must be open when bonus is credited. Bonus will be credited to the account by 3/4/19. Bonus is considered interest and will be reported on IRS Form 1099-INT. Offer may be modified/withdrawn.
I already have a Discover bank account that I tried out in exchange for a previous bonus. I did not experience a hard credit pull. The rates are decent but given their limited feature set there is usually another similar savings account that is higher, so I only keep it open in case something good comes up in the future. I only keep $5 in there with a $5 transfer once in a while so they don't close it without notice.
Bottom line. The Discover Savings account is a simple, barebones piggy-back* savings account with no minimum balance and no monthly fees. The rates are historically competitive but rarely the highest. With no monthly fees, this is a relatively low-risk bonus if you have the funds available and have never had a Discover bank account before. Note that the bonus is considered taxable interest.
(* "Piggy-back" means it is a companion account to your existing checking account.)
"The editorial content here is not provided by any of the companies mentioned, and has not been reviewed, approved or otherwise endorsed by any of these entities. Opinions expressed here are the author's alone."
Discover Bank Bonus: 2.10% APY + $150/$200 ($15,000/$25,000 Deposit) from My Money Blog.
---
Copyright © 2018 MyMoneyBlog.com. All Rights Reserved. Do not re-syndicate without permission.