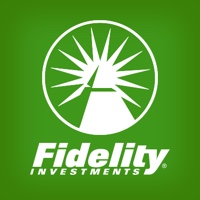 In order to use Fidelity's Fully Paid Stock Lending Program, I decided to transfer some of my individual stock holdings from Merrill Edge to Fidelity. I was pleasantly surprised by the smooth experience, and here is a quick review of the process.
12/1 Wednesday. I started the transfer process online at Fidelity and read about my options. I knew that I only wanted to transfer certain tickers, and was told I needed a statement from my current broker dated within the last 90 days. The process was estimated to take a week. I slept on the decision.
12/2 Thursday. I went through their online Q&A process, which required me to enter online the ticker symbols of all the specific shares that I wanted to transfer. Fidelity then entered this information neatly into their asset transfer form. I simply had to print it out, sign it, scan it into a PDF, and then upload it again. I also uploaded a PDF statement from Merrill Edge. I officially submitted the transfer request.
12/6 Monday. I noticed early in the day that my shares were removed from my Merrill Edge account. The securities didn't show up online at Fidelity yet.
12/7 Tuesday. I received an email from Fidelity notifying me "Transfer of Assets Request Completed". The shares showed up online at Fidelity as well.
12/8 Wednesday. I am waiting on the cost basis information to arrive, they said it may take up to 15 additional days.
Here is the text of the final e-mail:
Congratulations. Your transfer of assets has been completed successfully.

It may take up to 15 days for your firm to provide cost basis information. We will update your account when this information is received. If cost basis information is not provided by your firm, or if your firm identified any assets as non-covered, you can provide this information yourself on the Positions/Cost Basis page within your Portfolio Summary.
Their status tracker page is detailed and informative. (It also confirmed all my of tickers and share amounts, which are not shown below.)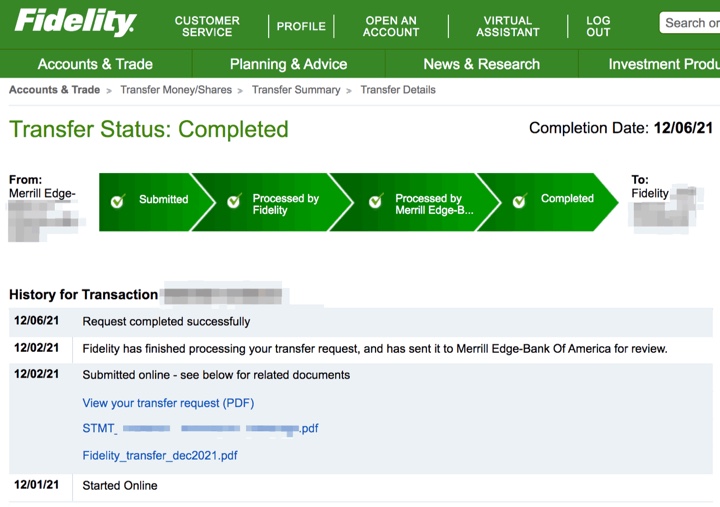 Fees. I could not find any official page regarding transfer fee rebates from Fidelity, but anecdotally if you call them up after completing a transfer, Fidelity may reimburse you any account transfer fees. Transfer fees usually run about $75, so perhaps they decide unofficially based on the amount of assets transferred. Thankfully, Merrill Edge does not charge a fee for outgoing partial account transfers, so there was nothing to reimburse. As far as I know, Fidelity is not offering any transfer bonuses at this time.
Bottom line. The process to transfer some stocks from Merrill Edge to Fidelity took less than a week and was completed 100% online. No phone calls, no follow-up emails, no signature guarantees to track down. I credit good service from both Fidelity and Merrill Edge (where I am still keeping enough assets to qualify for the Platinum Honors tier of their Preferred Rewards program.)
"The editorial content here is not provided by any of the companies mentioned, and has not been reviewed, approved or otherwise endorsed by any of these entities. Opinions expressed here are the author's alone. This email may contain links through which we are compensated when you click on or are approved for offers."
Fidelity Investments Incoming Brokerage Asset Transfer Review from My Money Blog.
---
Copyright © 2004-2021 MyMoneyBlog.com. All Rights Reserved. Do not re-syndicate without permission.