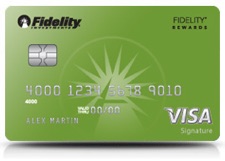 Updated. Fidelity has condensed their rewards credit card line-up to a single card, the Fidelity® Rewards Visa Signature® Card issued by Elan Financial Services (subsidiary of US Bank). It earns a flat 2% cash back when directed to an eligible Fidelity Investments account. Right now, there is also a $100 bonus link to get a $100 bonus after you make at least $1,000 in purchases within the first 90 days. (Based on the online reviews, they won't give you the bonus unless you apply specifically through the right link. Be sure to follow-up.) Here are the highlights:
Unlimited 2% cash back, when redeemed into an eligible Fidelity account.
No annual fee.
Visa Signature benefits, like Concierge service.
Chip-enabled and works with Apple, Android, and Samsung Pay.
Note that this card charges a 1% foreign transaction fee, leaving you with a 1% cash back card on foreign purchases.
Eligible Fidelity accounts. The 2% rewards value applies only to points redeemed for a deposit into the following active Fidelity accounts:
Fidelity Cash Management Account
Fidelity Brokerage account
Fidelity-managed 529 account
Fidelity Retirement account (IRA, Roth IRA, SEP-IRA, Rollover IRA)
Fidelity Go account (robo-advisor)
Fidelity Charitable Giving Account (donor-advised fund)
Fidelity HSA
Points redemption details. You can either choose automatic or manual redemption. With automatic redemption, once you reach $50 of rewards (5,000 points from net spending of $2,500), your balance will be automatically swept into your designated Fidelity account (or split between up to 5 different Fidelity accounts if you wish). You can also redeem your points "on demand" either by calling in or online after you reach the same 5,000 point minimum balance.
Note that the rewards value will be less than 2% cash back if you choose to redeem your points for other rewards such as travel options, merchandise, gift cards, and/or a statement credit.
Previous FIA Cardservices customers. You should have received your new Elan-issued cards by now. If you are not getting 2% cash back, be sure to contact them as ask. You may need to re-enroll your card.
Bottom line. I think everyone who can handle a cash back credit card (i.e. you carry no high interest credit debt) should have a 2% flat cash back card that applies to all purchases. The Fidelity Rewards Visa can make sense for Fidelity customers because you can set aside your rewards automatically and save money towards a 529 college savings or retirement account. I would try to apply when there is a sign-up bonus. Here are some similar competitor cards:
"The editorial content here is not provided by any of the companies mentioned, and has not been reviewed, approved or otherwise endorsed by any of these entities. Opinions expressed here are the author's alone."
Fidelity Rewards Visa Review: 2% Flat Cash Back + $100 Sign-up Bonus from My Money Blog.
---
Copyright © 2018 MyMoneyBlog.com. All Rights Reserved. Do not re-syndicate without permission.