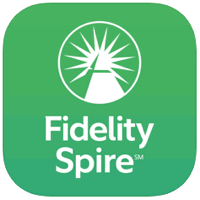 Fidelity is gradually moving into the areas previously catered to by startups like Betterment and Wealthfront. Younger customers, more mobile features, lower fees, etc. It was only a matter of time, but now we will have to see which big brokerage firm can pull it off the best. Schwab? Fidelity? Vanguard?
Fidelity Spire is their new mobile app, which doesn't require any Fidelity account at all (but of course will work with them and/or be a perfect place to open a new account). As with many other apps, you can link your external accounts, track balances, and set financial goals. Fidelity acquired fintech startup eMoney in 2015, and is using that technology for account aggregation. Spire is not the same as the official Fidelity app, and you can't made trades yet. After downloading and poking around a bit, it feels a like many other goal calculators within fintech apps like Stash and Acorns.
They are offering a rather dinky little $5 if you download the app, sign-in, set up a goal, and link it to a Fidelity Cash Management Account (FCMA). You can open the FCMA in the app, and it has no minimums and no account fees (and horrible 0.01% APY interest). This may be some low-hanging fruit for existing Fidelity customers, but not really much of an enticement otherwise. You can refer your friends for $5 each for up to another $25 (up to 5 friends).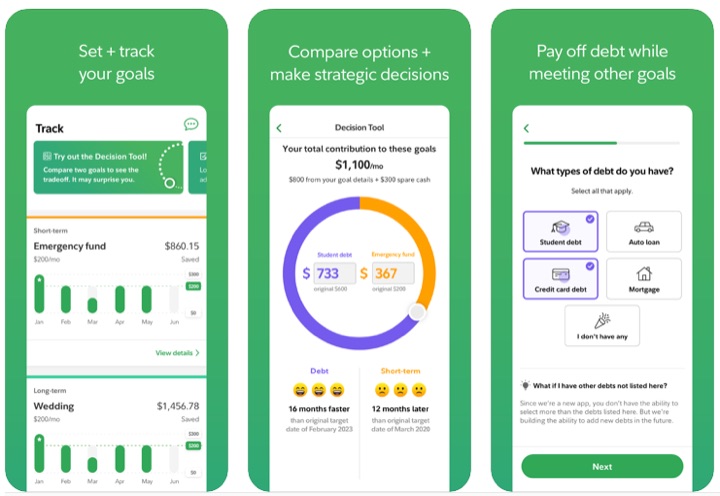 Fidelity Go, their robo-advisor service, is also changing their fee structure. There is still no minimum to open an account (they'll start buying stuff with $10) and here are the new advisory fees:
$10,000 or less: No advisory fee
$10,000 to $49,999: Flat $3 a month
$50,000 or more: 0.35% annually
At $10,000 in assets, $36 dollars a year = 0.36% annually. At $49,999 in assets, $36 dollars a year = 0.07% annually. Basically, everything under $50,000 in assets is now cheaper than before (and simply priced so you can think of it as even cheaper than Netflix.)
In addition, they also state that there are "no commissions, trading fees, or underlying fund fees that you pay." Fidelity actually created a new line of mutual funds especially for their fee-based portfolios. They are called Fidelity Flex Funds and are similar to their other passive and actively-managed mutual funds but with zero expense ratios. For example, there is a Fidelity Flex 500 Fund and a Fidelity Flex International Index fund. I take this to mean that your entire portfolio will now be created using this proprietary line-up of funds. Previously, I remember seeing iShares ETFs and such.
As with other roboadvisors, the portfolio they choose will be based on you filling out a relatively short online questionnaire. If you aren't sure about the resulting asset allocation, I recommend going back and change your answers to see the effects. With Fidelity Go, you do not gain access to financial advice from a human advisor. However, you will still gain access to their phone/live chat customer service, which has traditionally been rated highly.
One factor that I think is often overlooked in these "starter" services – What happens if/when you want to move your money elsewhere? Will they force you to sell all your proprietary Flex funds? If so, that could be a huge tax hit on a taxable account and a form of "lock-in". This question doesn't just apply to Fidelity, but all robo-advisors.
This is why I prefer to DIY and construct a portfolio using "high-quality interchangeable parts" that I can keep forever, like the Vanguard Total US Market ETF (VTI). You could do this using any broker, or you can use something like M1 Finance if you wanted more automation while maintaining the ability to port out your investments at any time.
"The editorial content here is not provided by any of the companies mentioned, and has not been reviewed, approved or otherwise endorsed by any of these entities. Opinions expressed here are the author's alone. This email may contain links through which we are compensated when you click on or are approved for offers."
Fidelity Spire Saving App, Fidelity Go Roboadvisor Pricing Changes from My Money Blog.
---
Copyright © 2019 MyMoneyBlog.com. All Rights Reserved. Do not re-syndicate without permission.