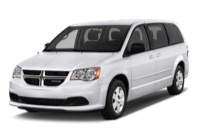 (Update 2018: Here is a new alternative sign-up link that should give you instant Emerald Executive Club status at National. I'm not sure if my previous link below still works, but it did as of March 2018 according to the comments. More details in original post below.)
When I'm paying for it myself, my preferred car rental company is National. Now, when AutoSlash says I'll save big bucks by going elsewhere, I will, but if the difference is small then I will stick with National. Here's why:
If you sign up for their free Emerald Club loyalty program, even at the base tier you get to pick from any car in their "Emerald Aisle" while paying the Mid-Size price level. As a car enthusiast, that adds a bit of fun and excitement to the process, even if it is choosing between a Hyundai and a Chevy compact. At most major airports, you can show up, walk up to the car you like, and drive off without waiting in lines.
Even though they aren't Hertz or Avis, they aren't a tiny shop that I'm afraid will try to wring every last penny out of me. I've never had any issues when returning cars with tiny scratches or dents, so I don't have to stress about making every scratch noted when picking up the cars.
There are often promotions where I can get upgraded to their a higher status level, Emerald Club Executive.
Here is a current sign-up link that will get you free National Emerald Club Executive Status. The upgraded status will last for the rest of this year, plus another 14 months. Note that you have to provide valid Driver's License information; I put in the wrong information initially because I just wanted to test out the link, but it only worked after putting in the real information. Perhaps they check it against some sort of database.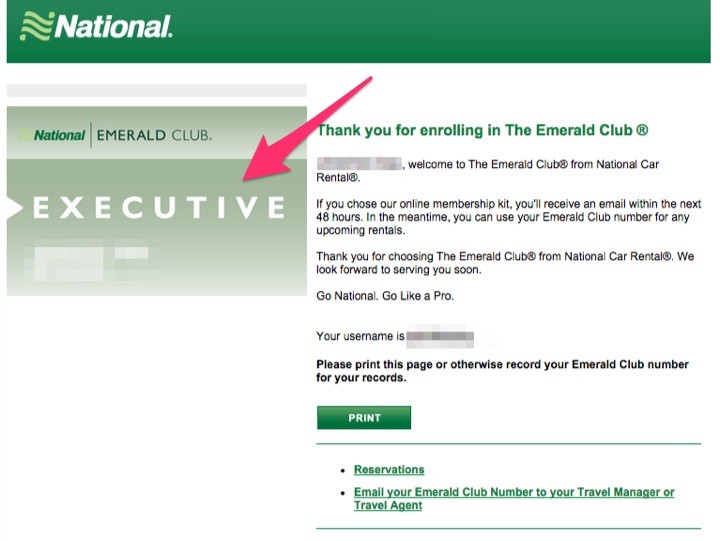 Here is a quick summary of the perks of Emerald Club Executive over the base Emerald Club level.
Obtaining this status usually requires 12 paid rentals or 40 paid rental days in a calendar year. It is also available to American Express Platinum cardholders.
While paying the Mid-Size rate, you can pick from cars in the Executive Aisle, which are a notch nicer than the standard Emerald Club aisle. There are usually full-size cars and SUVs available in the Executive aisle. Off the top of my head, I've driven a Chevy Impala, Dodge Charger, Chrysler 300, Ford Mustang, and a GMC Terrain.
You'll always pay for one car class less when you reserve a full-size or luxury car. For example, if you reserve a full-size car, you'll pay the mid-size price. This discount can be thought of as a "free upgrade".
You can earn a free rental day every six rental credits, as opposed to every 7 credits at the base tier.
Once you obtain your status and/or membership kit, you can also ask for a status match with Hertz, Avis (request via email), or Enterprise. For example, based on the qualification criteria, it appears at Emerald Club Executive lines up with Hertz Five Star, while Emerald Club Executive Elite lines up with Hertz President's Circle.
Free National Emerald Club Executive Membership from My Money Blog.
---
© MyMoneyBlog.com, 2018.