Cashing in your frequent flier miles for a free flight can be hit or miss, especially around a holiday. Which airlines are the most generous with making seats available? Each year, IdeaWorks tries to run a fair comparison of all the major airlines to keep them honest. This WSJ article discusses the results:
During March, IdeaWorks made more than 7,000 trip searches among 25 airlines, looking for two seats at the basic "saver" award level—25,000 miles for a domestic U.S. round-trip, for example—on 14 specific travel dates June through October. Each airline's 10 busiest long routes and 10 busiest medium-length routes, both domestic and international, are queried to get the fullest picture of award availability.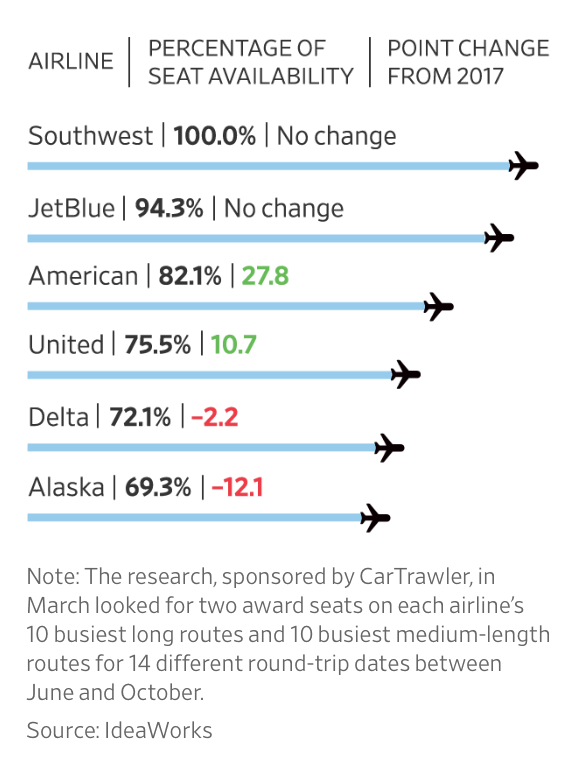 Most improved goes to American, which admitted that they significantly increased their overall seat availability, especially to Hawaii and Europe. Worst decline goes to Alaska, which says it didn't change the amount of seats released, so perhaps there is simply more competition and usage of the program. Note that the survey focuses on economy tickets (not business or first class).
Southwest and JetBlue remain on top at close to 100% availability, but that is a bit misleading since both of their points are revenue-linked with no blackout dates. For example, 25,000 Southwest points will buy you basically any "Wanna Get Away" ticket that costs up to about $340. So the results are really just saying that Southwest's busiest routes almost always have a flight that costs under ~$340. Southwest doesn't fly to Europe at all, but they do have plans for Hawaii soon (which I look forward to, but will probably hurt their numbers).
Frequent Flier Miles: Which Airlines Are Easiest To Redeem Economy Awards? from My Money Blog.
---
© MyMoneyBlog.com, 2018.