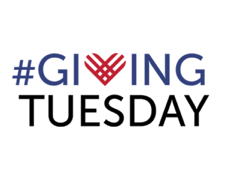 Tuesday, December 3rd is Giving Tuesday 2019, an international day all about giving support through charities and nonprofits by donating money and goods or volunteering your time. In case you aren't inundated with mailings already, this time of year is a big deal for charities, with 40% of donations occurring in the last six weeks of the year. Here are some ways you can "double your impact" with a matching donation.
Facebook Match (good toward any charity that accepts donations via Facebook). Starting at 8am Eastern on 12/3, Facebook and PayPal will match $7 million in donations to U.S. nonprofits – up to $100,000 per nonprofit and $20,000 per donor. Donations will be matched dollar for dollar on a first-come, first-served basis. All processing fees will be paid so 100% of your donation goes to charity.
For example, give directly with the donate button on the The Humane Society Facebook Page. You can also start your own fundraiser here or simply post up a donate button to support your favorite charity.
Check for an employer match. Try this lookup tool from DoubleTheDonation. Most of these programs don't require you to actually give on a specific day, but you may want to start the process today so you don't forget in the holiday rush.
Individual charities. Many charities are organizing their own matching program for #GivingTuesday. Here are some large charities have organized their own matches in the past, but I would check to make sure.
Also check with your favorite local community nonprofit. GivingTuesday.org has a local database.
Having trouble deciding where to give? Here are some charity comparison sites that will help you pick where to send your help.
Looking to volunteer your time? Check out FeedingAmerica.org and find a volunteer opportunity at a food bank near you.
"The editorial content here is not provided by any of the companies mentioned, and has not been reviewed, approved or otherwise endorsed by any of these entities. Opinions expressed here are the author's alone. This email may contain links through which we are compensated when you click on or are approved for offers."
Giving Tuesday 2019: Double Your Impact With Matching Donations from My Money Blog.
---
Copyright © 2019 MyMoneyBlog.com. All Rights Reserved. Do not re-syndicate without permission.