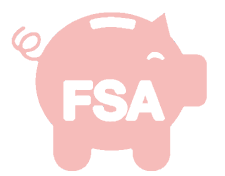 As we head into the last few months of 2021, this is a reminder to check on your Healthcare and Dependent Care Flexible Spending Accounts (FSA). This NYT article outlines some temporary changes this year, while also revealing that nearly half of all FSA participants have lost some amount of their contributions, with a median lost balance of $157.
Healthcare FSA carryover.
Employers may allow a "full" carry-over of remaining balances for next year — up to the total balance in the worker's F.S.A. So if you had $1,000 in your account at the end of this year, you could carry it all over into 2022. (The usual carry-over limit is $550.)
Masks, hand sanitizer, sanitizing wipes, and at-home COVID tests are FSA eligible expenses. See official IRS notice. The Amazon FSA and HSA Store accepts your FSA/HSA debit card for hassle-free reimbursements and is also an easy way to find eligible items that may be useful to you.
The accounts can be used for medical care and co-payments, nonprescription drugs, and a variety of health-related services, products and supplies, including menstrual pads and tampons, breast pumps, contact lenses and lens solution.

And the I.R.S. recently clarified that masks, hand sanitizer and other items that protect against the spread of Covid-19 are eligible for reimbursement. At-home Covid tests also qualify, the I.R.S. said, because "the cost to diagnose Covid-19 is an eligible medical expense for tax purposes."
Dependent Care FSA carryover.
Under a temporary pandemic relief change, however, all funds in dependent care accounts may be rolled over into 2022 — if the employer chooses to allow it.
Balance carryover extensions are thus possible but still require your employer's approval, so check with your HR department first.
I hate wasting potential tax savings, but this is another year of struggling with my Dependent Care FSA benefits provider over reimbursement approvals. FSA "stores" made some things easier, but many childcare providers simply aren't used to providing detailed, itemized receipts like Amazon or Walgreens.
"The editorial content here is not provided by any of the companies mentioned, and has not been reviewed, approved or otherwise endorsed by any of these entities. Opinions expressed here are the author's alone. This email may contain links through which we are compensated when you click on or are approved for offers."
Healthcare and Dependent Care FSA Check-up Reminder (Average Loss $157) from My Money Blog.
---
Copyright © 2004-2021 MyMoneyBlog.com. All Rights Reserved. Do not re-syndicate without permission.