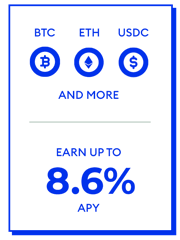 This WSJ article is the first mainstream financial article that I've seen discuss the high interest rates paid on Bitcoin and stablecoin (cryptocurrency backed by a "stable" asset like the US dollar). I am (again) not a cryptocurrency expert, but it does seem appropriate to educate and warn other curious investors about the risks. Here's my take:
The price of Bitcoin can vary a lot. It probably went up or down by a hundred dollars in the time you took to read this sentence.
Stablecoin prices tend to vary less because they promise to be backed by a stable asset. USDT (Tether) and USDC (USD Coin) are both currently trading exactly at US$1.00, so it appears that the public believes this claim. However, US dollar stablecoins are not affiliated with the US government or any central bank.
Brokers/exchanges where you can buy and sell these cryptocurrencies are not backed by government insurance. They are businesses – some will end up worth billions, some will get bought by a bigger competitor, and some will probably fail (likely because they were hacked). Even though they might be called "savings" or "interest" accounts, no cryptocurrency is held in an FDIC-insured bank, or even an SIPC-insured brokerage account. They will promise to keep your crypto safe and pay interest, but it is possible they may not live up to their end of the deal, AKA "counterparty risk". Not every exchange is equal.
This potential risk is a big reason that they have to pay you 6% annual interest in your Bitcoin and/or 9% annual interest in your USDC stablecoin.
The result is two separate risks – the risk of the price of crypto itself, and counterparty risk of the place holding your crypto.
In the end, I agree with this part of the article:
If you're a risk-taker who relishes the ride when an asset soars and can laugh off the losses when it crashes, then maybe you should consider letting a broker borrow your cryptocurrency at a generous rate.

After all, if you aren't troubled by the extraordinary volatility of virtual money, you might as well earn some interest on it.
I am far from a crypto enthusiast, but I did buy some crypto as a purely speculative investment and to promote my own learning. We are talking less than 1% of net worth. I am partial to the theory that either BTC is worth zero, or it will eventually be worth at least on par with the market cap of gold (roughly $200,000). With this relatively small bet, I can handle the zero.
I bought Bitcoin using the Voyager app ($25 bonus, publicly-traded with $3 Billion market cap) and also opened an account with BlockFi ($200 bonus, just completed $350m Series D at $3B valuation). Both of these companies are worth well over a billion dollars and gone though various rounds of funding, which isn't bulletproof but it means that smarter people than me have vetted their security protocols and business practices.
BlockFi pays me 6% interest on up to 2 BTC (8.6% on USDC) and Voyager pays 6.25% interest on BTC (9% on USDC). I reinvest the interest so that I own a little bit more BTC each month. However, I fully accept that I am getting paid this interest and getting the convenience of buying BTC with a few taps in exchange for the potential risk that they will go bust while losing all my BTC. There are other options like hardware wallets, but I am unwilling to endure the inconvenience for my relatively small investment.
Bottom line. Sorry, you can't earn a 9% "safe" interest rate on your cryptocurrency, even if it is a US-dollar backed stablecoin. You still have counterparty risk. If you already want to own cryptocurrency and accept the trade-offs, then you might as well earn interest if using a broker/exchange. Perform your own due diligence first when picking a broker/exchange to buy from.
Even though the interest rates are quite low, I keep my "safe" cash in FDIC-insured bank accounts and similar.
"The editorial content here is not provided by any of the companies mentioned, and has not been reviewed, approved or otherwise endorsed by any of these entities. Opinions expressed here are the author's alone. This email may contain links through which we are compensated when you click on or are approved for offers."
High-Yield Crypto Accounts: 6% Interest in Bitcoin or 9% Interest on Stablecoin from My Money Blog.
---
Copyright © 2004-2021 MyMoneyBlog.com. All Rights Reserved. Do not re-syndicate without permission.