HMBradley is another fintech bank startup that differs by offering customers up to 3% APY based on the percentage of their paycheck that they save. Deposits are FDIC-insured through Hatch Bank. What do you have to do to actually qualify for this rate? Will it be worth the hassle? Here's my review of HMBradley after reading their FAQ, fee schedule, and deposit agreement. Thanks to reader Guarav for the tip.
Rate tiers. Interest is earned on balances up to $100,000 and is set each calendar quarter. The interest rate updates for all customers at the beginning of each calendar quarter: January 1st, April 1st, July 1st, and October 1st. In order to qualify for a "Savings Tier", you must receive a direct deposit at least once per month and save at least 5% of your quarterly deposits.
New customers start in Tier 3 and stay there as long as they maintain at least one direct deposit per month. For example, if you open in May, the next reset date would be July 1st and your interest earned for the next 3 months is based on your activity in the previous 3 months. Here are the current rates for each tier: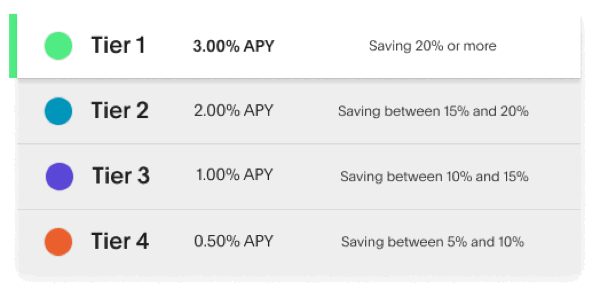 $100 minimum to open. Interest is compounded daily and credited monthly.
Deposits vs. direct deposits. You must receive some sort of direct deposit each month, as defined below:
For our accounts, we define direct deposits as those deposits made by the customer's employer or a federal or state government agency or retirement benefits administrator. These generally include payments made by corporations and other organizations. We do not consider deposits to an account that are made by an individual using online banking or other payment provider such as PayPal or Venmo as direct deposits.
However, for the calculations of "savings rates", all deposits are considered including incoming transfers from another bank account. At the same time, your "spending" will also include any transfer out of your account, even if it's just to another bank account that you own.
NOW account? No paper checks. It should be noted that HM Bradley's account is actually a lesser-known form called a "negotiable order of withdrawal (NOW) account", which per the CFPB which gives the bank the right to require at least seven days written notice of a withdrawal. Supposedly, this is rarely done in practice. Like a checking account, there are no limits on the number of withdrawals each month. However, unlike a checking account… there are no checks! You can probably work around most things using the online Billpay feature. I suspect that not having to deal with paper checks saves them a good chunk of money.
The Bank offers Negotiable Order of Withdrawal transaction checking accounts, which allows you to make deposits by check, ACH payment, transfer from another account at the Bank, or wire transfer. NOW accounts only are available to consumers for personal, family, or household purposes. The Bank does not offer business accounts and you agree not to use your HMBradley Account for business purposes. The Bank may request 7 days' advance notice of a withdrawal or transfer of funds from the NOW account.
Features. No minimum balance, no monthly fees. No paper checks. There is fee-free ATM access via your Debit Mastercard at over 55,000 ATMs in the STAR and MoneyPass networks (or at any store that allows for cash back on debit purchases). There is online Billpay. However, there is currently no ability to deposit checks (including ATM deposits). In the future, they plan on having remote check deposit only. They may close your account without notice if you maintain a zero balance.
My thoughts. In the current rate environment, the ability to earn 3% APY on up to $100,000 is exceptional. I don't know of any "rewards checking" account has a balance limit that high. However, there are a lot of moving parts here.
First, the short-term concerns. All new customers that open now (May) will earn 1% APY until July 1st, so there is a delay. If their savings rate is determined to be above 20% as of July 1st, then you will reach Tier 1, but will Tier 1 still be 3% APY then? There is no rate guarantee and they don't promise to provide any set amount of advance notice. Given the recent Fed moves, there is going to be pressure for them to lower it. Their lower rate tiers have already dropped from what they initially advertised.
I'm also concerned about the long-term sustainability. I like the idea of promoting savings, but the system doesn't seem to benefit "average" savers enough, while leaving it open to "high" savers. For an "average" saver, saving 15% of deposits is a lot especially if you already have a 401(k) plan, which means they'll only earn 0.50% or 1% APY. Meanwhile, a "high" saver with sizable existing cash assets can qualify for the 3% easily and then park tens of thousands of dollars at HMBradley. All they have to do is switch over some amount of direct deposit and be careful with their withdrawals. Perhaps there will be enough customers satisfied with earning zero to 0.50% APY interest to subsidize the rest, but we'll have to see.
Bottom line. HMBradley is a digital bank startup that differs by offering customers a high rate (currently up to 3% APY) based on the percentage of their paycheck that they save. The rules are a bit more complex than I'd like, but if the rates hold steady it can be a competitive offer for motivated savers.
"The editorial content here is not provided by any of the companies mentioned, and has not been reviewed, approved or otherwise endorsed by any of these entities. Opinions expressed here are the author's alone. This email may contain links through which we are compensated when you click on or are approved for offers."
HMBradley Bank Review: 3% APY After Saving 20% Of Your Paycheck from My Money Blog.
---
Copyright © 2019 MyMoneyBlog.com. All Rights Reserved. Do not re-syndicate without permission.