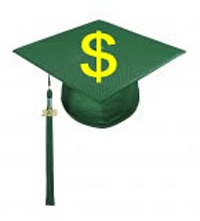 Promotions updated for 2020. 5/29 is "National 529 College Savings Plan Day" and certain state plans are offering promotions and/or giveaways. Some end on 5/29 and others end on 5/31, so that's why I'm posting this early. Many are simply sweepstakes drawings which don't really excite me, but here are some fixed bonuses:
Let me know if I've missed any.
My brief take on 529 college savings plans in general. I believe that you should worry about having adequate emergency and retirement savings first. Take care of yourself, so your kids won't have to take care of you financially in old age. That's a gift to them as well. However, if you are on track otherwise, a 529 plan can be a handy package of automated savings, automated investment, no annual tax paperwork, and valuable tax savings. For example, setting up an auto-deposit of $50 every month could add up to nearly $20,000 at the end of 18 years (assuming 6% return).
In terms of picking a specific plan, remember to first consider your state-specific tax benefits via the tools from Morningstar, SavingForCollege, or Vanguard. Morningstar estimates that an upfront tax break of at least 5% can make it worth investing in your in-state plan even if it is not otherwise a top plan (assuming that is required to get the tax benefit).
If you don't have anything compelling available, anyone can open a 529 plan from any state. You can open multiple 529 plans, and you can roll over your funds from one into another 529 plan once every rolling 12 months. (Watch out for tax-benefit recapture if you got a tax break initially.) Here are the most recent Morningstar Top 529 College Savings Plan Rankings. I personally invest in the Utah My529 Plan for my children due to their DIY glide path feature and DFA fund access, but would also recommend the Vanguard Nevada 529 Plan if you want something that is more "set-and-forget". There are many other solid plan options, but those are my standard replies for those looking for a specific recommendation.
"The editorial content here is not provided by any of the companies mentioned, and has not been reviewed, approved or otherwise endorsed by any of these entities. Opinions expressed here are the author's alone. This email may contain links through which we are compensated when you click on or are approved for offers."
List of 529 Day (5/29) College Savings Plan Promotions from My Money Blog.
---
Copyright © 2019 MyMoneyBlog.com. All Rights Reserved. Do not re-syndicate without permission.