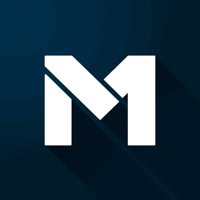 As noted in my post on best online brokers, my favorite option in the now-crowded "robo-advisor" category is now M1 Finance. Here's a quick rundown of what makes them different:
Fully customizable. You pick your own ETF asset allocation "pie". (You can add individual stocks too.) You can simply copy one of the many model portfolios out there, or tweak it as you like. You have full control! Here is my pie which I named the My Money Blog Portfolio.
No commissions. Free stock/ETF trades with a low $100 minimum account size for taxable accounts and a $500 minimum for retirement accounts.
No management fee. Most robo-advisors charge an annual management fee of 0.25% to 0.50% of assets (or force you to own something bad, like artificially low-interest cash).
Automatic rebalancing. M1 will rebalance your portfolio back to the target allocation for you automatically (for free). You don't need to do any math or maintain any spreadsheets.
Fractional share ownership. For example, you can just set it to automatically invest $100 a month, and your full amount will be spread across multiple ETFs. Dollar-based transactions were one of the good things about buying a mutual fund, but it seems that ETFs are the future due to their lower costs and tax-efficient structure. Fractional shares solve this problem.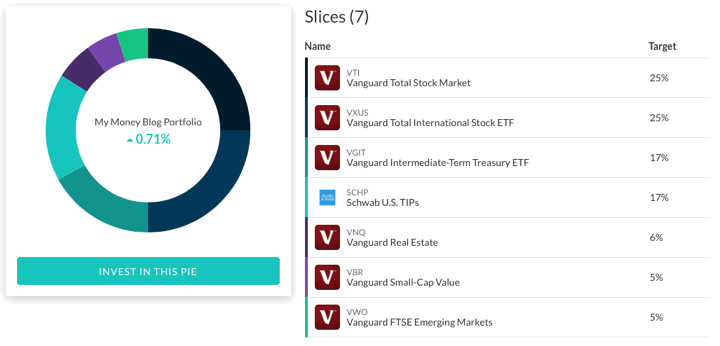 Short version: Free and DIY, of course I like it!
How do they make money? Here's how M1 makes money. As commissions shrink, this is the business model for pretty much all online brokers now:
1) Interest on idle cash (can be minimized as you can auto-invest all idle cash in the investment account)
2) M1 Borrow (margin loan interest)
3) M1 Spending (debit card generates fees for them)
4) Payment for order flow (same as Robinhood and TD Ameritrade)
5) M1 Plus (premium subscription that gets you higher interest rates and debit card cash back).
$100 account transfer bonus. Now through April 30th, they will give you a $100 cash bonus if you perform a brokerage account transfer of $20,000+ over to M1. Works with both taxable and IRA accounts. Via their post on account transfer myths, this bonus should basically cover the cost of any outgoing fee. The most common transfers come from Vanguard, Betterment, Wealthfront, Robinhood, E*Trade, TD Ameritrade, Fidelity and Schwab.
Here is a PDF with detailed transfer directions. Here are the main steps:
First, you'll need to open a new M1 Finance account. For a smooth transfer, your M1 account type should match your current account type. For example, a Joint account should be transferred to a Joint account and a Roth IRA should be transferred to a Roth IRA. If you choose to change account type in a transfer, it will require additional paperwork.
Email them at "transfers@m1finance.com" with your most recent account statement and any additional instructions, including directions on which securities you do and do not want transferred.
Transfers typically take 7-10 days. The $100 bonus will appear in your M1 account on July 15.
Bottom line. M1 is a new brokerage account that acts like a free, customizable robo-advisor with automatic rebalancing into a target portfolio. I am trying them out with my 2019 IRA contribution. Right now, there is also a transfer bonus if you move $20,000+ over to them from another broker.
"The editorial content here is not provided by any of the companies mentioned, and has not been reviewed, approved or otherwise endorsed by any of these entities. Opinions expressed here are the author's alone."
M1 Finance $100 Brokerage Transfer Bonus from My Money Blog.
---
Copyright © 2018 MyMoneyBlog.com. All Rights Reserved. Do not re-syndicate without permission.