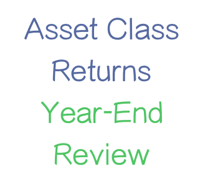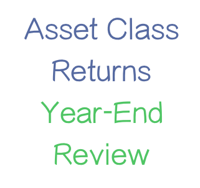 I used to add thing up my net worth every month (if not more frequently), but nowadays I limit myself to quarterly portfolio checks to coincide roughly with when my dividends arrive. I got tired of trying to make sense of all the swings and daily noise about stock market prices. However, I do enjoy a brief reflection at the end of the year. Here are the annual returns for select asset classes as benchmarked by ETFs per Morningstar after market close 12/31/19.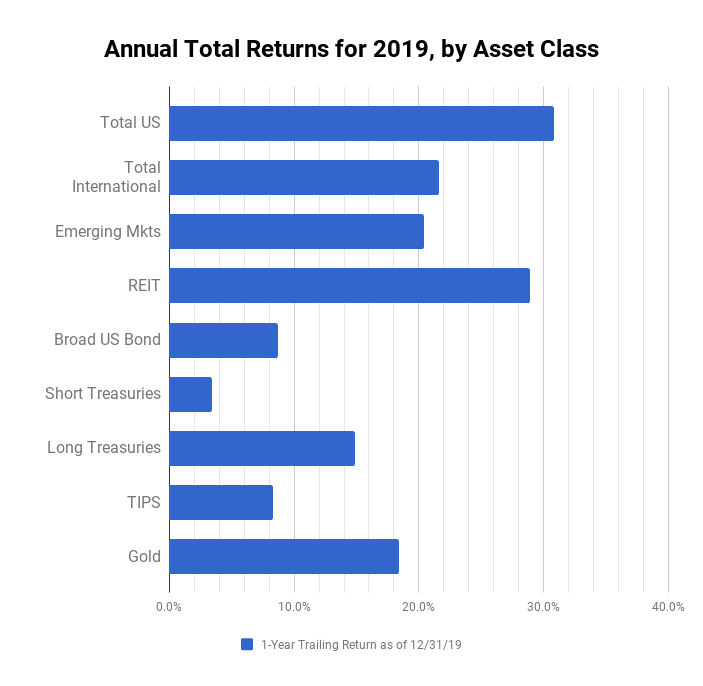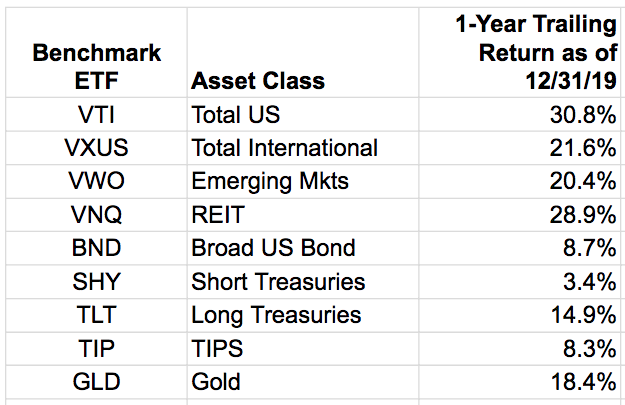 Commentary. As of 2017 year-end, the performance of every asset class was positive. The lowest positive return was from short-term US Treasuries. As of 2018 year-end, the performance of nearly every asset class was negative. The highest return was from short-term US Treasuries.
As of 2019 year-end, we find ourselves again in a situation where the return of nearly every major asset class was positive. And yet again, the lowest positive return was from short-term US Treasuries. Short-term Treasury bonds are slow, steady, and safe… but you also need to be in the risky asset game to reap the rewards when things are hot.
The Vanguard Target Retirement 2045 fund (roughly 90% diversified stocks and 10% bonds) was up 21.4% in 2017, down 7.9% in 2018, and up 24.9% in 2019. The benchmark for our personal portfolio, a more conservative mix of 70% stocks/30% bonds as we are close to living off it, was up 17.1% in 2017, down 5.9% in 2018, and up 21.2% in 2019.
The more stocks keep going up, the more we are reminded that eventually they will go down again. There is a famous quote (perhaps by Gary Shilling?) that "Markets can stay irrational longer than you can stay solvent." This is usually brought up during stock market crashes, but also applies during bull markets. Yes, stocks will have another bad streak eventually, and future 10-year returns do look rather tepid, but you also might miss a lot while sitting on the sidelines waiting for that to happen.
As usual, I have no predictions about stock prices. However, I am confident that the hundreds of business that I own through these ETFs and mutual funds will collectively make a profit, reinvest some of it to keep growing, and distribute some of it to me in the form of cash dividends. I am also confident that my US government bonds, municipal bonds, and FDIC/NCUA-insured bank certificates will pay the promised interest on time. I'll try my best to spend those dividends and interest and ignore the price swings.
"The editorial content here is not provided by any of the companies mentioned, and has not been reviewed, approved or otherwise endorsed by any of these entities. Opinions expressed here are the author's alone. This email may contain links through which we are compensated when you click on or are approved for offers."
Major Asset Class Returns, 2019 Year-End Review from My Money Blog.
---
Copyright © 2019 MyMoneyBlog.com. All Rights Reserved. Do not re-syndicate without permission.