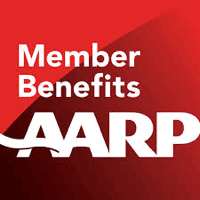 This is a multi-part deal, but each part can be done separately. Marcus is the online banking arm of Goldman Sachs. AARP members are eligible for two member benefits at Marcus:
0.10% APY rate increase to the Online Savings rate for 24 months. As of 7/29/20, that means 1.15% APY instead of 1.10% APY.
Special 8-month No-Penalty CD at 1.10% APY as of 7/29/20. Their standard No-Penalty CD is 0.90% APY for 7 months.
AARP membership is targeted at those age 50+, but there is no age restriction for membership. I've been a member in the past, as AARP has offered a variety of member benefits that can be quite valuable. Insurance discounts, hotel discounts, restaurant discounts, and so on. (They even once offered a credit card that offered a flat 3% cash back for a certain window.) The standard membership fee is $16/year, but it drops to $12/year if you sign-up for auto-renewal with a credit card on file (you can still cancel at any time).
Swagbucks is a popular points website, and you can currently get 1,200 Swagbucks for joining AARP through their site. 1,200 Swagbucks is worth $12 in Amazon gift cards, which you can think of as offsetting the AARP annual membership fee. If you are a member, log in and search for "AARP". If you are not a member yet, join via my Swagbucks referral link and earn a $3 referral bonus + an additional $10 bonus if you spend at least $25 through their shopping portal within 30 days of registration.
Taken altogether, you can get the 0.10% APY rate boost, special CD access, and a year of AARP membership (including many other perks) all at zero net cost. Thanks to reader Bill P for the tip.
"The editorial content here is not provided by any of the companies mentioned, and has not been reviewed, approved or otherwise endorsed by any of these entities. Opinions expressed here are the author's alone. This email may contain links through which we are compensated when you click on or are approved for offers."
Marcus Bank AARP 0.10% APY Rate Boost + Free AARP Membership from My Money Blog.
---
Copyright © 2019 MyMoneyBlog.com. All Rights Reserved. Do not re-syndicate without permission.