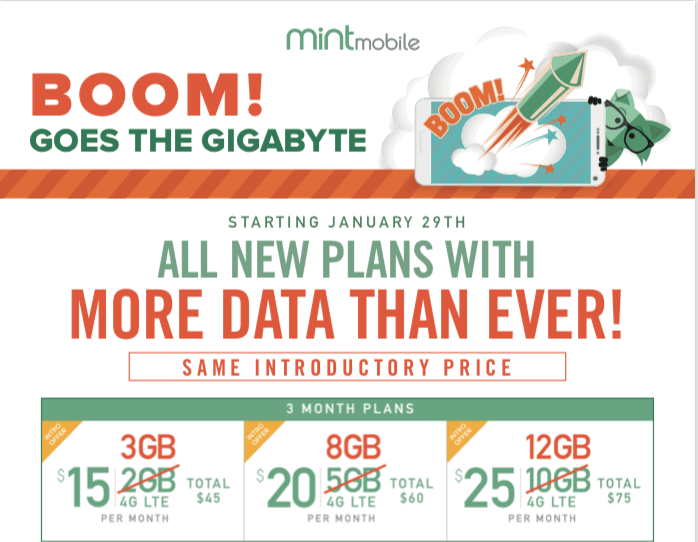 New promo + more data across all plans. Mint Mobile is how I keep my cell phone costs low. They use the T-Mobile network, which means if you have a compatible phone switching just involves swapping in a new SIM card. As of January 29th, they increased the data on each of their plans for both new and existing customers. The tiers are now 3, 8, and 12 GB of data each month (see graphic above). Alternatively, this additional data may let you go down to a cheaper tier and save another $60 per year ($5 per month).
In addition, they have brought back the old holiday promo for a limited time as a "Super Bowl" promo. New members can get 3 months of Unlimited Talk, Text, and 8 GB LTE Data for $20 Total ($6.67 per month). The details:
Unlimited talk, text, and 8 GB LTE data per month. For $20, you get 3 months of prepaid service. After your 8 GB of monthly LTE data is used up, you still get unlimited but slow 2G data for the rest of that month until it resets.
Mint Mobile SIM card is included.
No coupon code required.
Taxes and fees will apply. For reference, when I bought the cheaper 2 GB x 3 month plan for $45 previously, my taxes and fees came to $3 total for those 3 months.
I would treat this as a really cheap 3 month trial. If you don't like Mint, just transfer out again. Here is my Mint Mobile SIM Activation and Number Port Transfer Review. Be sure to use their phone compatibility checker first to see if you can bring your current phone over and just put in the Mint Mobile SIM card.
In my opinion, the two best cell phone deals right now are this one and the "secret" Sprint Unlimited Free Year offer if you are currently with AT&T or Verizon.
Also see:
"The editorial content here is not provided by any of the companies mentioned, and has not been reviewed, approved or otherwise endorsed by any of these entities. Opinions expressed here are the author's alone."
Mint Mobile: Increased Data Tiers, 3 Months of Unlimited Talk, Text, 8 GB Data For $20 Total from My Money Blog.
---
Copyright © 2018 MyMoneyBlog.com. All Rights Reserved. Do not re-syndicate without permission.