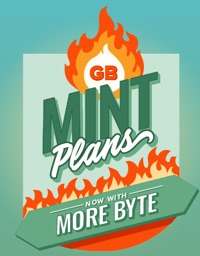 Update 2021: I just renewed with Mint Mobile again and am enjoying the new 5G service from T-Mobile towers. Plus, they just increased my data limits automatically without raising the price. I now pay $20/month for 10 GB 5G/LTE data (up from 8 GB), which is enough that I don't have to worry about hitting the cap. I also consolidated all the important info from my previous Mint Mobile posts into the full review below.
Full review:
Mint Mobile is a prepaid cellular MVNO which runs on the T-Mobile network. They offer very competitive pricing on 5G/LTE data plans, as long as you "buy in bulk". To switch, they will send you a SIM card to place in your existing phone. New customers can get the lowest price for the first 3 months for a lower upfront commitment. After that, you'll need to renew for 12 months. Here are the current plan options:
4 GB 5G/LTE Data + Unlimited Talk/Text for $15/month
10 GB 5G/LTE Data + Unlimited Talk/Text for $20/month
15 GB 5G/LTE Data + Unlimited Talk/Text for $25/month
Unlimited* 5G/LTE Data + Unlimited Talk/Text for $30/month (*Throttled after 35 GB)
I like that Mint Mobile acts like Vanguard in that I keep automatically getting more for my money without me having to be a new customer. $15 a month used to get me 2 GB of data, then 3 GB, and now 4 GB. $20 a month used to get me 5 GB of data, then 8 GB, and now 10 GB.
After you run out of 5G/LTE high-speed data, Mint Mobile plans still include "unlimited" slow data at 2G speeds (128kbps). This is nice to keep your messages and e-mail even if you accidentally binge-watch something on Netflix over cellular. All plans also include free international calls to Mexico and Canada.
Bring your own phone. You can bring your own unlocked GSM phone including both Android and Apple iPhones. Input your zip code first and then they will help you check your phone compatibilty. The most reliable way is to look up your IMEI number in your phone settings. Alternatively, they are offering the new iPhone SE for $15 a month, which means you can get a new phone + service for $30 a month total.
Number porting tip. Don't forget to collect the following info from your existing carrier before starting the transfer process: Account number, Account PIN/password, and zip code on bill. Other than that, I was able to swap SIM cards and activate everything in under 10 minutes.
Upgrade to a higher data plan later and only pay the difference. During the pandemic, I found myself eating through a lot more cellular data. After I bumped into my data cap (3 GB at the time for $15/month) for the second time, I contacted Mint to upgrade to their next tier (8 GB at the time for $20/month). They allowed me to upgrade to the higher data plan for the rest of my 12-month term by only paying for the future difference. I did not have to retroactively pay to upgrade the entire term, or even renew for a new term.
What's the catch? Any drawbacks? I did not experience any "catch". Otherwise, I wouldn't have kept renewing with Mint for three years in a row. If I'm being picky, here are potential drawbacks:
As with all MVNOs, you don't get the roaming that you get when you pay full price from the Big 3 carriers of Verizon, AT&T, or T-Mobile. However, I didn't experience any consistent issues with cell coverage. The only time that I remember lacking service was during a large public event (remember those?) – a music concert in a stadium.
As with any time you switch carriers, the porting process can sometimes be a hassle. You'll need to call your existing carrier and get a secret passphrase, which might involve a phone call and some hold time.
How's the 5G data speed? If you have a 5G-capable phone and 5G towers around, you can get download speeds that rival or perhaps exceed your home internet connection. Mint will automatically allow you to connect to 5G towers at the same price.
Hotspot? All Mint plans include free hotspot up to your data allotment (5 GB hotspot on unlimited plan).
7-day money back guarantee details. It is important to note that their "7-Day Money Back Guarantee" starts at activation, not order date or ship date. So activate, and make sure the coverage works for you within those 7 days. If not, you can request a full refund online (minus shipping if any). You don't even need to ship back your SIM card.
Bottom line. Mint Mobile works best for my needs, as I get unlimited talk, text, and 10 GB of 5G/LTE data for $20 a month. Other recs? If you want to unlimited talk and text only, get that from Tello for only $8 a month. If you want unlimited data on Verizon towers, you may explore hacking Visible Wireless.
Also see:
Disclosure: This post includes affiliate links. If you make a purchase through the links above, I may be compensated.
"The editorial content here is not provided by any of the companies mentioned, and has not been reviewed, approved or otherwise endorsed by any of these entities. Opinions expressed here are the author's alone. This email may contain links through which we are compensated when you click on or are approved for offers."
Mint Mobile Review: Now $15 a Month for 4 GB, $20 a Month for 10 GB 5G/LTE Data from My Money Blog.
---
Copyright © 2004-2021 MyMoneyBlog.com. All Rights Reserved. Do not re-syndicate without permission.