My free year of Sprint Unlimited service ends this month, and I'm moving on before I get charged $100 a month + postpaid taxes for 2 lines. It was nice paying under $8 per month, but I was also stuck with slow data speeds (3G?!). Today, I switched to Mint Mobile (T-Mobile MVNO). Here's my quick review and tips regarding the switching process.
Prices start at $15/month for unlimited talk, text, and 2 GB of LTE data (3 months prepaid). After the initial period, you will have to prepay for 12 months to keep the $15/month price. You can also upgrade to $20/month for 5 GB LTE data or $25/month for 10 GB LTE data. After your high speed data runs out, you still get "unlimited" data at 2G speeds (throttled to 128 kbps). All plans also include free international calls to Mexico and Canada.
1. Buy your SIM card and service online. You can bring your own unlocked GSM phone including both Android and Apple iPhones. You can check phone compatibility here. The $15/month 2 GB plan x 3 months worked out to an all-in price of $45 + $3.13 in taxes and fees in California. I got free shipping added automatically, but it might cost $5. See screenshot below.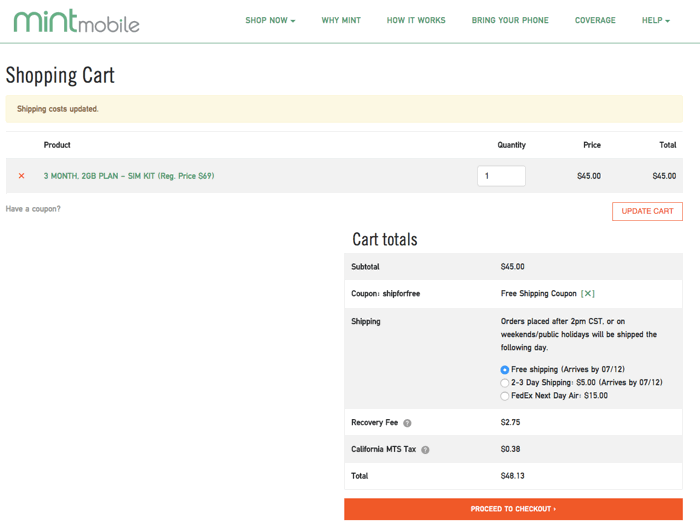 2. While you wait for it to arrive, collect the following from your existing carrier: Account number, Account PIN/password, and zip code on bill. This will be required for an instant and smooth port-out of your existing phone number.
3. Install the new Mint Mobile SIM card in your phone and then visit mintmobile.com/activate. Don't do this until you are ready to activate your service, because it will start immediately. I wanted to try out the 7-day guarantee, so I gave myself a little wiggle room. You'll need the activation code on the back of the SIM "credit card" from which you punched out the SIM. After providing the carrier information from above, my old number was ported to Mint Mobile in a minute. Everything was done online, no calling in required.
4. Change your APN settings. You will need to change a few settings on your phone to get MMS messages. Here are the instructions for both iPhone and Android. Turn your phone off and on, and everything should work fine again. At this point, I'd spent under 10 minutes and my phone was back to full working condition.
Note: Their 7-Day Money Back Guarantee starts at activation, not order date or ship date. You can request a full refund (minus shipping if any) if you let them know within 7 days of activation. You won't need to ship back your SIM card.
5. Cancel your old plan. But first, test out your voice, text, and data. After the 7-Day Money Back Guarantee is over, you can call your old carrier and officially cancel. They should see that you ported out your number already and not hassle you about it.
Thoughts on Mint Mobile (T-Mobile MVNO) network so far. In my neck of the woods, Verizon is tops and T-Mobile and AT&T are about tied for second. I ran the Speedtest app and got 5 Mbps down from Mint Mobile as opposed to 1 Mbps down from Sprint in the same spot. I don't stream much video on my phone so it's not a huge deal, but I do hope to get more LTE coverage in places where Sprint left me with 3G.
Bottom line. Mint Mobile is a T-Mobile MVNO with prices starting at $15/month for unlimited talk, text, and 2 GB of high-speed LTE data (unlimited slower 2G data above that) when you prepay for 3 months initially (12 months after that). $20/month for 5 GB LTE data. $25/month for 10 GB LTE data. 7-Day Money Back Guarantee. Following the directions above, I was able to swap SIM cards, port my old number, and activate everything in under 10 minutes.
Mint Mobile SIM Activation and Number Port Transfer Review from My Money Blog.
---
© MyMoneyBlog.com, 2018.