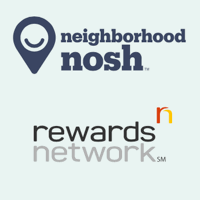 Neighborhood Nosh (formerly iDine) is a promotional service allows you to earn cash back when you dine at participating restaurants and pay with your linked credit card. You may already be familiar with using Rewards Network to earn airline and hotel points, but this is a rebrand of their standalone program which offers cash back in the form of an American Express gift card. Here is the standard structure:
Sign up for a free account and provide your credit/debt card numbers. (I believe they only ask for the 16 digits. They won't charge anything on it.)
If you use that linked card to pay for a meal at a participating restaurant (dine-in, takeout, or direct delivery), you will automatically earn cash back rewards on the entire amount including tip.
No membership cards, no coupons, no apps. You don't do anything that announces that you are seeking a discount.
Earn either 5% or 10% back.
Usually, you earn 5% back until you reach $750 in spending with in the calendar year. After that, you start earning 10% cash back.
New and existing member promo. Right now, existing members get 10% back until 4/4/21. If you sign up as a new member by 7/31, link a card, and pay with that card within the first 30 days, and opt-in to their marketing emails, you'll also earn 10% cash back right away.
Existing iDine member rewards will also automatically be transferred to Neighborhood Nosh.
Cash out details. It appears they will mail you a physical AmEx gift card once you reach a rewards balance of $20.
After a member reaches $20 in accumulated restaurant rewards from Neighborhood Nosh, an American Express® Reward Card will be mailed the following month with all available rewards. Rewards in an amount less than $20 are subject to expiration if no dining activity occurs within one year from the date the rewards were originally earned.
My take. I like the fact that you don't have to do change your existing eating habits to earn extra rewards. I could simply link the card that I put most dining purchases on (for example the Chase Sapphire Preferred 2X or Chase Sapphire Reserve 3X points or the American Express Gold 4x points) and then promptly forget about it for the most part. If the restaurant I visit happens to be part of the program, then I get some free rewards as a nice surprise.
I do look through their list of participating restaurants when I want some miles activity for a specific airline to avoid the expiration of points. Each of your credit cards can only be linked to one type of Rewards Network account. I usually have 5-7 different credit cards linked to 5-7 different programs, so I can pick up points from a specific program as needed with a single targeted purchase. You have to plan ahead a little bit, as the points can take a while to post.
Now, if you eat at a participating Rewards Network restaurants regularly, then the 10% cash back from Neighborhood Nosh could really add up. Could be worth a look.
"The editorial content here is not provided by any of the companies mentioned, and has not been reviewed, approved or otherwise endorsed by any of these entities. Opinions expressed here are the author's alone. This email may contain links through which we are compensated when you click on or are approved for offers."
Neighborhood Nosh Review: Up to 10% Back at Participating Restaurants from My Money Blog.
---
Copyright © 2004-2021 MyMoneyBlog.com. All Rights Reserved. Do not re-syndicate without permission.