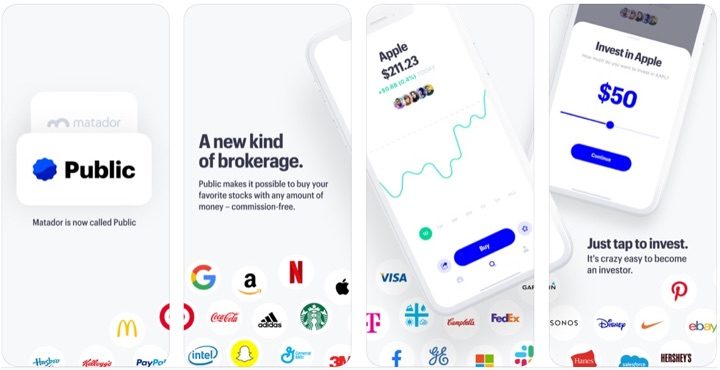 Ready for yet another stock trading app? This time it's called Public, formerly known as Matador (currently iOS only). What makes it unique is that it combines several different features that you might have seen separately elsewhere:
Free dollar-based stock trades with no minimum balance. Not only can you trade any stock for free, you can also choose to trade fractional shares in real-time for free as well. For example, Google stock may trade at over $1,000 a share, but you can buy just $50 worth if you want with no commission.
2.5% APY interest on up to $10,000 of idle cash. Many brokerage firms quietly make their profits from your cash balance, but Public pays 2.5% interest on your idle cash.
$20 new account sign-up bonus via referral. Details below.
Social investing. You can "follow" other investors and see their portfolio holdings and recent trade activity.
$20 referral bonus details. If you join via a referral link from an existing user and deposit at least $10 and keep $10 in total account equity for 30 days, both you and the referrer will get a $20 bonus added to your account. Here is my Public referral link (visit link with an Apple device to download). Thanks if you use it! After you join, you can refer others as well ($500 total limit to bonuses). Here are full terms.
Robinhood and WeBull have a referral program that gets you a free share of stock, with the most common bonus a share worth about $10. Public keeps it simple and gives you $20 cash.
2.5% interest details. The 2.5% interest is paid out on your idle cash up to $10,000, and looks to be paid directly into the brokerage cash balance (SIPC insurance). It does not appear to be an FDIC-insured bank sweep. Here is their help page. Here is a screenshot from my account: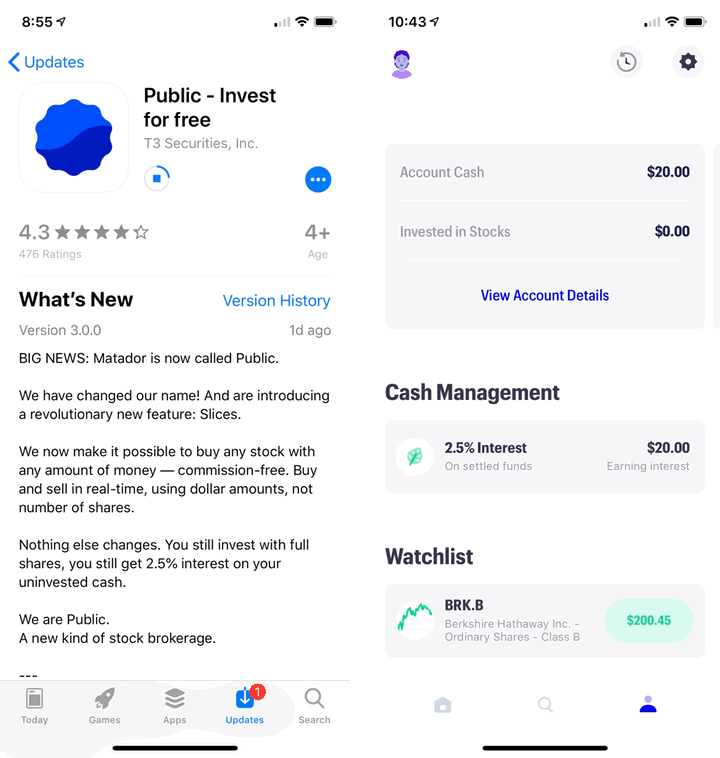 Other inner details. Public (formerly Matador) is part of T3 Securities, which is a broker-dealer member of FINRA and SIPC. The clearing firm is Apex Clearing, as with many other similar apps. Public uses Plaid to link your external bank accounts for ACH transfers, which is a widely-used third-party service. The default setting is free paperless trade confirmations and statements, otherwise a physical trade confirmation is $2 a pop and a paper statement is $5 a pop.
The competition. If you like a visually-appealing app that you check multiple times a day in order to trade in and out stocks for free, Robinhood was there first and includes free options. If you want a low-maintenance, customized ETF portfolio with zero commissions, dollar-based trades, and free automatic rebalancing, M1 Finance would be a better fit.
Is there room for Public? They are giving 2.5% interest on cash, but that also raises the question of how are they going to make any money? They did raise $9 million in Series A venture capital in March 2019, which should keep them going for now.
"The editorial content here is not provided by any of the companies mentioned, and has not been reviewed, approved or otherwise endorsed by any of these entities. Opinions expressed here are the author's alone. This email may contain links through which we are compensated when you click on or are approved for offers."
Public App Review (Matador): Free Dollar-Based Stock Trades, 2.5% Interest, $20 Bonus from My Money Blog.
---
Copyright © 2019 MyMoneyBlog.com. All Rights Reserved. Do not re-syndicate without permission.