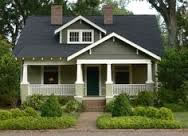 How about this housing market? A few weeks ago, the CEO of Redfin shared a viral Twitter thread about what he was seeing. Here's just a snippet:
It has been hard to convey, through anecdotes or data, how bizarre the U.S. housing market has become. For example, a Bethesda, Maryland homebuyer working with @Redfin included in her written offer a pledge to name her first-born child after the seller. She lost.

Inventory is down 37% year over year to a record low. The typical home sells in 17 days, a record low. Home prices are up a record amount, 24% year over year, to a record high. And still homes sell on average for 1.7% higher than the asking price, another record.
What about single-family homes as an investment asset class? Larry Swedroe points to a recent academic study about the historical total returns of single family rentals. Here are some highlights from the paper:
The study covers the nearly 30-year period from 1986 to 2014, including zip codes across the largest 15 US metro areas.
Total return is broken down into two components: rental income (net of expenses) and house price appreciation, similar to stocks and indexes like the S&P 500.
Across all cities, the total returns were approximately the same: 8.5% total annualized return. On average, this broke down to 4.2% rental income + 4.3% price appreciation.
In higher-priced cities, the total returns were composed of lower rental yields but higher price appreciation.
In lower-priced cities, the total returns were composed of higher rental yields but lower price appreciation.
On average, they found that net rental income is about 60% of gross rental income. In other words, for every $1,000 of gross rent, $400 was eaten up by operating expenses like maintenance, repairs, property taxes, etc.
Single family rentals represent 35% of all rented housing units in the US, and have a market value of approximately $2.3 trillion.
According to Swedroe, during the same period the S&P 500 returned 10.7% annualized but with more volatility.
I definitely acknowledge rental properties are the way that many people have built wealth. As individuals can combine cheap leverage from government-subsidized mortgages along with that 8.5% annualized return, that definitely helps make it an even more an attractive option.
I've thought about purchasing a rental property (or four) as well, but I've always ended up using my time and life energy in other ways. In the end, I look at managing rental properties as more similar to running your own business than passive income. If you have the right personality and skillset, then managing rental properties is a great business and a great way to build wealth in terms of return on invested time. But for me, I'd much rather work on online businesses, what I call "digital real estate". With excess cash from work, I would rather invest in completely passive shares of businesses (stocks) and REITs which require zero ongoing work. When I am fully retired, the dividend checks will simply show up in my brokerage account. I don't need to screen tenants, hassle them about late rent, argue about security deposits, or worry about evicting a family on hard times.
What about simply buying an REIT that owns single-family rentals? It appears the two biggest are Invitation Homes (INVH) with 80,000 single-family homes and American Homes 4 Rent (AMH) with 50,000 single-family homes. As you might expect, their recent returns have also been quite hot. The 5-year average return for AMH is 17.45%, per Morningstar, but it's too young to have a 10-year return history. However, the current forward dividend yield of is 1.80% for INVH and 1.02% for AMH, which isn't terribly exciting.
Here's a 5-year historical performance chart of American Homes 4 Rent alongside some other residential REITs and the S&P 500, from YCharts. Buying a specific REIT can result in a bumpy ride.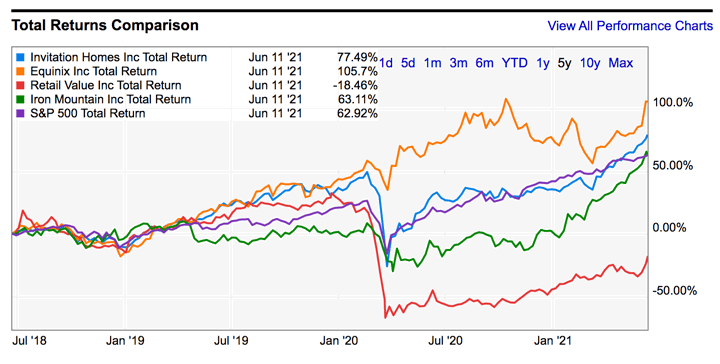 Now, if you own the Vanguard Real Estate ETF (VNQ), you'll find that 14% of its portfolio is invested in residential REITs. This includes apartments, student housing, manufactured homes, and single-family homes. INVH is about 1.2% and AMH is about 0.65% portfolio weight in VNQ. The mutual fund version of VNQ is VGSLX, and has a 10.5% annualized average return since inception in 2001. That's not too bad, either, and I've been pretty satisfied with my VNQ holding.
But again, single-family real estate is one of the original "side hustles" that helped folks build their own wealth over time. Sometimes, I wonder if I should work on building the required skills and knowledge base, just to keep my future options open and have something to teach my children.
"The editorial content here is not provided by any of the companies mentioned, and has not been reviewed, approved or otherwise endorsed by any of these entities. Opinions expressed here are the author's alone. This email may contain links through which we are compensated when you click on or are approved for offers."
Single Family Rental Homes: Asset Class with 8.5% Historical Returns from My Money Blog.
---
Copyright © 2004-2021 MyMoneyBlog.com. All Rights Reserved. Do not re-syndicate without permission.