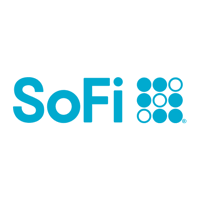 If you are not an active trader, you may find that most brokerage firms are now very similar. They nearly all have free stock trades, mobile trading app, and a paid robo-advisor option. Just have a basket of ETFs and some individual stocks? If you aren't in love with your current broker, you can often get a cash bonus for switching teams and/or moving in additional assets, based on the size of assets that you move over. Most brokers work within the Automated Customer Account Transfer Service (ACATS) to transfer of your securities, including tax cost basis history.
SoFi Invest is offering a limited-time brokerage transfer bonus of up to $5,000 for transferring in new assets.
$50 Referral bonus. As this promo includes existing accounts, you should consider grabbing this new account referral bonus first, worth $50 of stock with an initial deposit of $1,000+.
Get $50 worth of your favorite stock to start building your portfolio when you fund your SoFi Active Invest account** with at least $1,000*.
New SoFi Invest accounts (both new and existing accounts are eligible)
$50 bonus with $5,000 to $19,999 in new assets
$125 bonus with $20,000 to $99,999 in new assets
$250 bonus with $100,000 to $249,999 in new assets
$500 bonus with $250,000 to $499,999 in new assets
$1,000 bonus with $500,000 to $999,999 in new assets
$2,500 bonus with $1,000,000+ to $1,999,999 in new assets
$5,000 bonus with $2,000,000+ in new assets
Earn a bonus (as described below) when you transfer investments from another brokerage firm into a taxable SoFi Invest Active Brokerage or Active retirement account (Traditional, Roth, or SEP IRA). Bonus amounts are based on the one-time total dollar amount you transfer during the incentive period. This offer is good between now and 8/31/21.
Note that SoFi Invest does NOT accept mutual funds.
We do not accept mutual funds. These funds would need to be liquidated prior to initiating an ACAT with SoFi. Please contact your brokerage firm to complete this action, prior to submitting an ACAT.
In addition, SoFi will cover the outgoing transfer fee charged by your existing broker:
If you transfer a brokerage account with total asset value over $5,000 through the ACAT system, SoFi will reimburse up to $75 of ACAT Fees from your outgoing brokerage firm.
Transfer Tips
Before moving, I would download all your old statements and tax cost basis information to make sure it transfers over correctly.
An ACAT transfer can take a week or so to complete, so you won't be able to make any sell transactions during that time.
Consider performing a "partial" ACAT transfer where you only move over specifically designated shares (ex. only all 455 shares of BRKB) if you wish to keep some of your original brokerage account open. I would personally transfer over all shares of any specific ticker, so that the tax cost basis carries over neatly.
Compare bonuses across different brokers. Look carefully at the tiers, there may be a sweet spot where the percentages are better.
"The editorial content here is not provided by any of the companies mentioned, and has not been reviewed, approved or otherwise endorsed by any of these entities. Opinions expressed here are the author's alone. This email may contain links through which we are compensated when you click on or are approved for offers."
SoFi Invest Transfer Bonus Promotion: Up to $5,000, Both New and Existing Accounts from My Money Blog.
---
Copyright © 2004-2021 MyMoneyBlog.com. All Rights Reserved. Do not re-syndicate without permission.