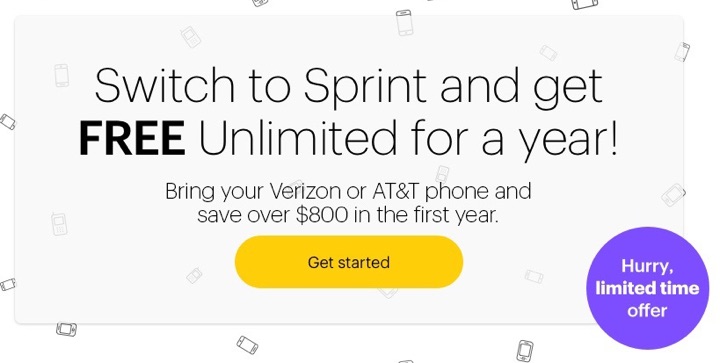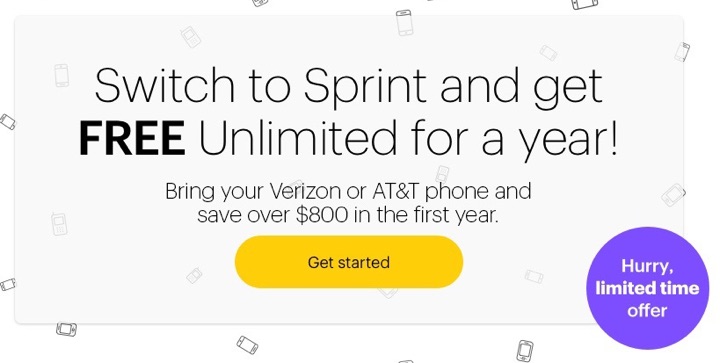 Now free unlimited data all the way through April 30th, 2020. Sprint has an unadvertised "secret" promotion (no TV, radio, newspaper ads, not even mentioned on front page of website) that is only available online to new customers who use the right link. If you sign up at the special link HERE, bring over your own eligible smartphone, and port-in your phone number, Sprint will give you a free year of unlimited talk, text, and data. There is no requirement to continue service past that. I did have to pay approximately $3 to $4 a month in taxes and fees per line.
Need proof? Here's a picture of our monthly bill. Two lines for six bucks a month!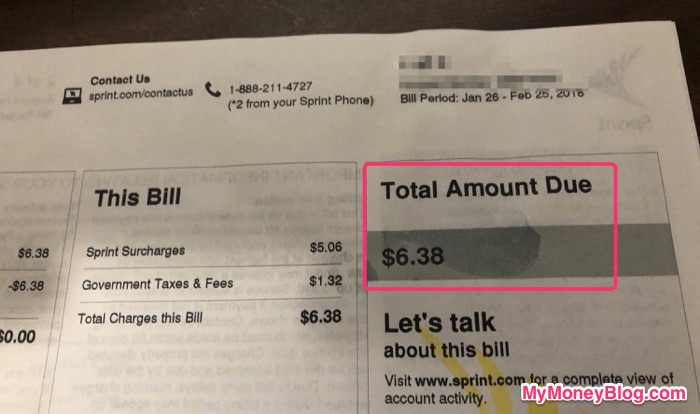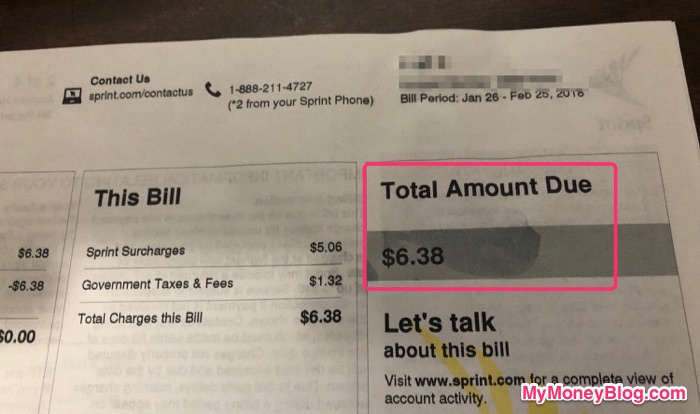 Offer is valid for multiple lines (up to 5). If your household bill is currently $100 a month, this promotion is worth $1,200 over a year.

My experience.
Offer keeps getting extended. I signed up over a year ago, but they keep extending the offer each month. At this writing, you can get free service through April 30th, 2020. I believe that Sprint is trying to keep their subscribers numbers high right now while they complete the T-Mobile merger, so this won't last forever.
Sprint will perform a hard credit check. They will check your credit, so be aware. It was worth it to me for the several hundred dollars in savings.
My total cost for two SIMs was $15.98 + sales tax ($2.99 each + $10 flat shipping). If you order by 2pm EST, they will send the SIM cards that same day by UPS Next Day Air.
Activation was quick and easy. The activation process was done 100% online, and it took under 20 minutes to swap SIM cards and port the existing numbers over. To complete activation after you get the SIM cards, you will need your SIM card #, phone IMEI/MEID #, and current carrier's account number and PIN.
Some people have been successful switching from prepaid service, especially Verizon, AT&T, and T-Mobile Prepaid. However, they do state that they require port-in from a postpaid plan. Use the phone compatibility checker tool after you click "Get Started" here. Another tactic is to first move to T-Mobile's cheapest prepaid $3/month plan ($10 minimum load) and then immediately port over to Sprint.
My total monthly bill always ranged from $6.xx to $7.xx including all taxes and fees for 2 lines. This matches with the online reports of monthly bills in the $3 to $4 range (per line) including everything.
No surprise fees or charges. We got what was promised for all 12 months with no funny business. I recommend their online Live Chat if you have any questions.
Sprint coverage is worse than my previous carrier (Verizon), but it's acceptable. I primarily notice this in terms of slower data speeds. Sprint is definitely slower than Verizon, AT&T, and T-Mobile in my area. I get fewer bars of 4G LTE and occasionally I can only get 3G. I am not a heavy data user, so I feel the inconvenience is worth the $100 a month in savings. I haven't had any problems with dropped calls or a complete lack of coverage. Check OpenSignal for a better coverage comparison in your specific zip code.
Important requirements and fine print:
You must bring over a phone that is already unlocked and compatible with Sprint (so that you just need to switch SIM cards). If you have AT&T or T-Mobile you may need to call them up and ask to unlock your phone. See list below, but be sure to use the phone compatibility checker tool after you click "Get Started" here.
You must own the phone(s) you're bringing to Sprint. (Not on a lease plan.)
You must port-in a phone number.
You must still pay a small monthly fee: "standard $1.99 admin fee, $0.40 regulatory fee and other taxes and fees apply."
The $30 activation fee is waived as part of this promotion. The fee will appear on your first bill and a credit will appear within 2 bills.
Requires a Sprint SIM card ($2.99 each + $10 shipping), paperless statements and Sprint AutoPay ($5/mo./line discount applied within two invoices). If AutoPay and eBill are removed, a $7.99/mo. charge will apply.
This deal is not available in any stores, you must sign up online through the special link above.
According to the terms, you must port-in from another postpaid carrier. Sprint requires a hard credit check on all new postpaid customers, including this offer.
If you keep the service past the first year, you will then start to pay $60/mo. for line 1, $40/mo. for line 2 & $30/mo./line for lines 3-5.
This plan also comes with Sprint Global Roaming, which includes "data up to 2G speeds and text messaging in any of our 165+ Global Roaming countries at no charge, plus calling for just $0.20 a minute."
Details about the Sprint Unlimited Plan:
Unlimited talk, text, and 4G LTE data subject to the following limits below. Data deprioritization applies during congestion after 23 GB.
Stream video at up to HD 1080p, music at up to 1.5mbps, gaming at up to 8mbps.
10GB of high-speed mobile hotspot data per line. Once your 10GB is used up, continue at up to 2G speeds (32 Kbps) for no additional cost, or purchase more on-network high-speed data for $15/1GB until the monthly billing cycle resets.
Here are select eligible phones. (Not the entire list! Use the checker tool to be sure.)
Apple iPhone 5c (Verizon only)
Apple iPhone 5s (Verizon only)
Apple iPhone 6
Apple iPhone 6 Plus
Apple iPhone 6s
Apple iPhone 6s Plus
Apple iPhone 7 (Verizon only)
Apple iPhone 7 Plus (Verizon only)
Apple iPhone 8 (Verizon only)
Apple iPhone 8 Plus (Verizon only)
Apple iPhone SE
Apple iPhone X (Verizon only)
BLU S1/VIVO S
Essential Phone
Google Nexus 5 (16 & 32 GB – black/white/red) (Verizon only)
Google Nexus 5X (all versions)
Google Nexus 6 (32 & 64 GB – black/white)
Google Nexus 6P (all versions)
Google Pixel
Google Pixel XL
Google Pixel 2
Google Pixel XL 2
HTC One A9 (Sprint Version only)
LG X Charge
moto e4
moto e4 plus
moto g4
moto g4 play
moto g4 plus
moto g5 plus
moto g5s plus special edition
moto x pure edition
moto x4
moto z2 play
Orbic Wonder
Samsung Galaxy Note8 Special Edition
Samsung Galaxy S7 edge Special Edition
Samsung Galaxy S7 Special Edition
Samsung Galaxy S8 (Verizon, AT&T and T-Mobile)
Samsung Galaxy S8+ (Verizon, AT&T and T-Mobile)
Samsung Galaxy S8 Special Edition
Samsung Galaxy S8+ Special Edition
Samsung Galaxy S9 Special Edition
Samsung Galaxy S9+ Special Edition
Samsung Galaxy Note9 Special Edition
If you don't have one of the phones above, you could probably buy a new Android model for under $300 or a used one for under $100. If you prefer Apple iPhones, on the cheap end you could get a used iPhone 6S 64GB from $230 or used iPhone 7 for $305 and then get a brand new battery for $30, which should last you a while. Alternatively, you could just take the hundreds of dollars in savings and buy a new phone with it.
Bottom line. Sprint is offering an unadvertised promotion of unlimited talk/text/data FREE for an entire year if you bring over your own phone and port in a phone number. My wife and I were able to save $1,000 over a year with this promotion. The coverage wasn't as good as Verizon in our area, but the savings was worth it. All we had to pay was about $3 to $4 a month in taxes/fees per line. There were no surprise charges. You must sign up via this special link, as it is not advertised on TV or on Sprint's home page.
"The editorial content here is not provided by any of the companies mentioned, and has not been reviewed, approved or otherwise endorsed by any of these entities. Opinions expressed here are the author's alone."
Sprint Free Year of Unlimited Data Promo: Get Free Service Through April 30th, 2020 from My Money Blog.
---
Copyright © 2018 MyMoneyBlog.com. All Rights Reserved. Do not re-syndicate without permission.