(I apologize to e-mail subscribers who may end up seeing this one-day offer a day late. My RSS to e-mail service only publishes at a set time once per day. You may wish to subscribe to Twitter @mymoneyblog as it offers an option of immediate text and/or in-app updates.)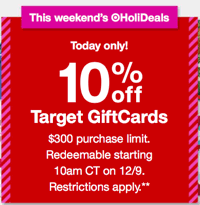 Target is offering 10% off Target Gift Cards again on Sunday, December 8th, 2019. One-day only. Offer available both in-store and online. No coupon or code needed – the discount applies at checkout.
Limit one transaction up to $300 in Target GiftCards on Target.com ($30 maximum discount) per household.
Target GiftCards purchased during 10% off offer may be redeemed beginning Monday, December 9th at 10am Central.
Selected additional fine print:
Minimum GiftCard purchase is $10 per card. Limit one transaction up to $300 in Target GiftCards on Target.com. Offer does not include Target Visa Gift Cards, Target MasterCard Gift Cards, Target American Express Gift Cards & gift cards issued by other retailers such as dining, lifestyle & entertaining gift cards. Quantities limited; no rain checks. Purchases of Target GiftCards that exceed certain transaction limits may be voided.
Reminder that REDcard 5% cash back does not apply to Target gift card purchases. Instead, you may wish to use your Discover card as it offers 5% cash back at Target this quarter.
You can also get 5% cash back this quarter if you pay with Paypal while also having the Chase Freedom as your funding source. You may also try to stack with this $5 off $50 PayPal/Target offer, although it says "exclusions apply".
"The editorial content here is not provided by any of the companies mentioned, and has not been reviewed, approved or otherwise endorsed by any of these entities. Opinions expressed here are the author's alone. This email may contain links through which we are compensated when you click on or are approved for offers."
Target 10% Off Gift Cards Promo: Sunday, December 8th, 2019 from My Money Blog.
---
Copyright © 2019 MyMoneyBlog.com. All Rights Reserved. Do not re-syndicate without permission.