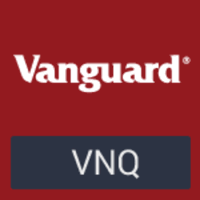 Morningstar has another educational article about investing in REITs as a separate asset class (free registration may be required). The entire article is worth a read, as it does a good job of summarizing the basic arguments for either carving out a special place in your portfolio for REITs, or simply leaving it at the ~4% market weighting that exists in most broad US index funds. For those already familiar with that, the historical charts add additional depth.
Historical correlations. This M* chart tracks the rolling 36-month correlation between the Vanguard Real Estate Index Fund (VGSIX) and Vanguard Total stock Market Index Fund (VTSMX), Vanguard Total International Stock Index Fund (VGTSX), and Vanguard Total Bond Market Index Fund (VBMFX). Note that the popular Vanguard Real Estate ETF (VNQ) has the same underlying holdings as VGSIX.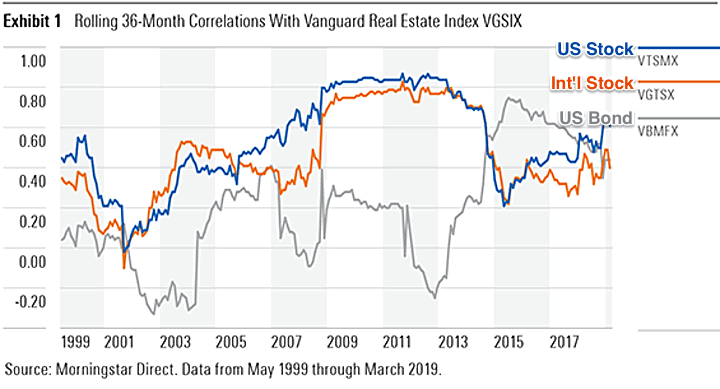 Sometimes the correlation between REITs and the overall stock market is very high, close to 1, but at other times it is closer to 0.5.
Historical return vs. volatility. Here's a good stat: From 1972 to 2018, REITs have had a slightly higher average total annual return than the US Total Stock Market (11.4% vs. 10.3%), but also a higher average standard deviation (16.9% vs. 15.5%).
My take. I agree that REITs are not an "alternative" asset class on the level of fine art, music royalties, or Bitcoin. I think common sense would predict that publicly-traded corporations that own commercial property would be at least moderately correlated with the overall stock market. Historically, REITs provided a slightly higher return than stocks but also slightly higher price volatility. Using a broad REIT fund instead of a stock fund (or vice versa) is only going move the needle a relatively small amount.
I personally do have a dedicated REIT portfolio allocation via the Vanguard REIT ETF and mutual funds. If I'm lucky they will add a bit of diversification and/or extra return, but I don't see them as a core holding like my Total US stock funds or US Treasury bonds. (I noticed that the M* article author also discloses that he holds VNQ.)
One of the reasons for my REIT slice is that I don't wish to deal with the potential legal headaches of owning a rental property. However, if you are interested in something closer to direct real estate ownership, see my Fundrise vs. Vanguard ETF experiment where I track my small side investment.
"The editorial content here is not provided by any of the companies mentioned, and has not been reviewed, approved or otherwise endorsed by any of these entities. Opinions expressed here are the author's alone. This email may contain links through which we are compensated when you click on or are approved for offers."
The Case Against REITs as a Separate Asset Class Holding from My Money Blog.
---
Copyright © 2019 MyMoneyBlog.com. All Rights Reserved. Do not re-syndicate without permission.