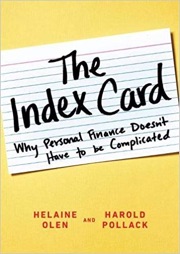 After rediscovering the young adult versions of fitting personal finance advice on an index card, I decided to go back and read the book The Index Card: Why Personal Finance Doesn't Have to Be Complicated by Helaine Olen and Harold Pollack. (I was able to find it via library eBook.)
I noticed that the book version of the "index card" was slightly different. The original card had 9 items, but two of them were merged away into each other (401k/IRAs) and (Pay Attention to Fees/Buy Index Funds). I bolded the new additions below. (You can see all chapters on the Amazon page.)
Strive to Save 10 to 20 Percent of Your Income
Pay Your Credit Card Balance in Full Every Month
Max Out Your 401(k) and Other Tax-Advantaged Savings Accounts
Never Buy or Sell Individual Stocks
Buy Inexpensive, Well-Diversified Indexed Mutual Funds and ETFs
Make Your Financial Advisor Commit To a Fiduciary Standard
Buy a Home When You Are Financially Ready
Insurance – Make Sure You're Protected
Do What You Can To Support the Social Safety Net
Remember The Index Card
Here again is the original: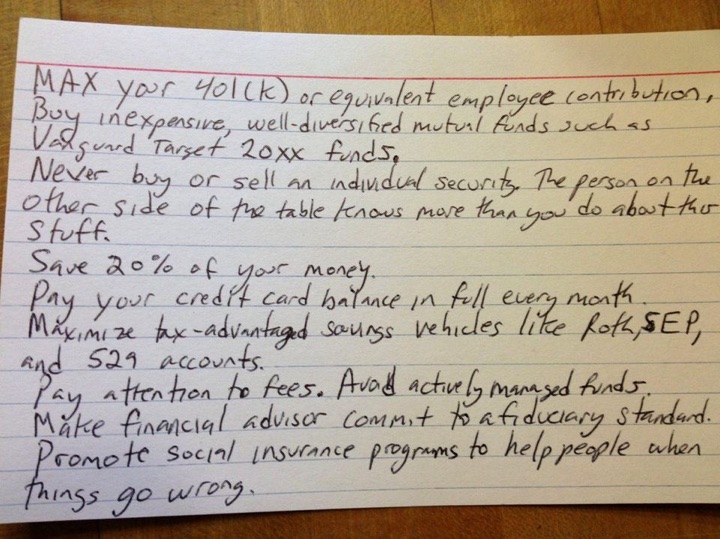 Here are my notes on the newly-addressed topics of home-buying and insurance.
Home-buying. This will always be a hard topic because it mixes in emotion, personal history, peer pressure, and all that fuzzy stuff. If you want to own a home, you need to make sure the purchase won't blow up your overall financial picture. Nothing really surprising, but still good advice.
Get your debt under control first.
Save up as close to a 20% down payment as you can.
Stick with a 15 or 30 year fixed-rate mortgage.
Prioritize what you really want and need in a home. Stay within your budget.
Location, location, location.
Insurance. There are low-probability events that can destroy decades of hard work, and that's why humans invented insurance to spread the risk. Here are their cut-to-the-chase bullet points:
Emergency fund – Maintain one!
Life insurance – If you're young(ish), just buy 30-year level term insurance.
Property insurance – Raise your deductible as high as you can handle.
Health insurance – Always sure you stay in-network.
Liability insurance – Coverage for at least twice your net worth.
I'm glad that this book still retained its "quick-and-dirty" nature. No single rule will cover every scenario, but it's good to have a clear and concise collection of the big points along with just enough explanation that you understand the basic reasoning behind it.
"The editorial content here is not provided by any of the companies mentioned, and has not been reviewed, approved or otherwise endorsed by any of these entities. Opinions expressed here are the author's alone. This email may contain links through which we are compensated when you click on or are approved for offers."
The Personal Finance Index Card: Book Version Differences from My Money Blog.
---
Copyright © 2018 MyMoneyBlog.com. All Rights Reserved. Do not re-syndicate without permission.