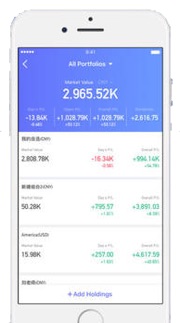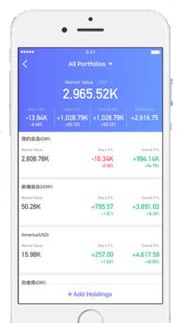 Updated July 2019. Webull has tweaked their referral program again. Short version: Newly referred users now get a free share of stock worth more than twice as much on average than previously (minimum $8 value instead of $3), but you get one share instead of two for opening an account and depositing $100 within 30 days.
Full post:
Webull is a new brokerage app that has unlimited free stock trades with no platform fees, free real-time quotes, and no minimum balance requirement. (Similar to Robinhood.)
Webull also has a referral program where new users can get a free share of stock worth between $8 and $1,000 for opening an account and making a $100 deposit within 30 days. I believe the referring user also gets the exact same share of stock. It's like a lottery where most people will get an $8 stock like Teva Pharmaceutical (TEVA).
Here are the full odds for the opening share bonus ($3 to $300 value) from their Terms and Conditions:
$8 to $10 value, odds are ~1:1.02
$10 to $100 value, odds are ~1:52.63
$100 to $200 value, odds are ~1:1111.11
$1,000 value, odds are ~1:10,000
Here is my Webull referral link. Thanks if you use it! I have received shares of TEVA, SNAP, SBUX, and even one AAPL. You will need to sign-up initially either with a phone number or e-mail address, and then open an account after downloading the app (Android or iOS). Webull is a real SIPC-insured broker, and the application is the same (name, address, SSN, work questions, investing experience questions, etc).
After you get the new user bonus, you can refer other people as well. For your first referral, you get a $10 Amazon gift card on top of the free share to both.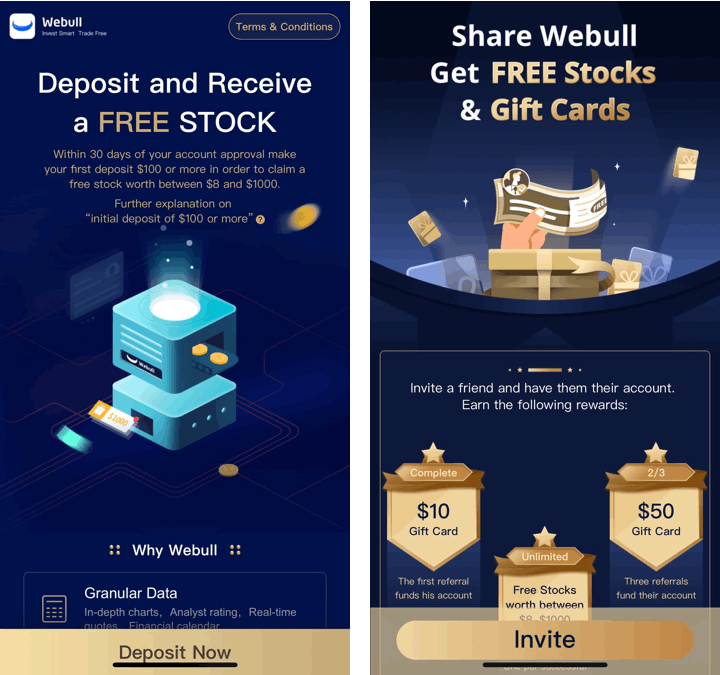 Robinhood vs. Webull.
Robinhood definitely has a sleeker user-interface, which should appeal to younger users and those who want a simple trading experience. Webull has a more "busy" interface with charting, news, technical indicators, and stock screeners. You may like having more information, or you may want a cleaner app.
Robinhood offers free options trading. Webull does not offer options at all.
Both are primarily apps, but Robinhood has a web trading option now. Webull does not that I know of.
Webull has customer service available via Live Chat or phone number. Robinhood only has an e-mail address.
Both will make money from normal users via interest on cash balances and selling order flow. Robinhood's premium features basically let newbie users access a simple version of margin (flat fee instead of interest rate). Webull has traditional margin accounts that allow shorting, and makes money by selling premium subscriptions to advanced quotes so serious traders can get the absolute best bids and offers across any of 13 different stock exchanges.
Firstrade is a more traditional online brokerage firm that also recently started offering free stock trades and free options trades.
Bottom line. Webull is a new entrant to the world of free stock trading apps. The feel is more of a full-featured traditional brokerage account in app form as compared to competitor Robinhood. The commission-free trades are the real draw, but new users who open an account and deposit $100 can also grab a free share of stock worth up to $1,000 (but probably about between $8 and $10 each). It's like a free lottery ticket, so why not?
"The editorial content here is not provided by any of the companies mentioned, and has not been reviewed, approved or otherwise endorsed by any of these entities. Opinions expressed here are the author's alone. This email may contain links through which we are compensated when you click on or are approved for offers."
Webull App: Free Stock Trades + Free Share of Stock For New Users from My Money Blog.
---
Copyright © 2018 MyMoneyBlog.com. All Rights Reserved. Do not re-syndicate without permission.