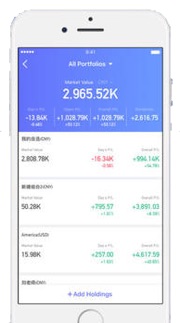 Webull is a new brokerage app that has unlimited free stock trades with no platform fees, free real-time quotes, and no minimum balance requirement. (Similar to Robinhood.)
Webull also has a referral program where new users can get a free share of stock worth between $3 and $1,000. I believe the referring user also gets the exact same share of stock. Also similar to Robinhood, most people will get a stock closer to $5 in value.
Here are the full odds from their Terms and Conditions:
$4 to $6 value, odds are ~1:1.1
$10 to $20 value, odds are ~1:24
$50 to $100 value, odds are ~1:200
$150 to $250 value, odds are ~1:333
$1,000+ value, odds are ~1:1,000
Here is my Webull referral link. (Thanks if you use it!) I received a free share of ABEV worth about $4.46. I have also seen SNAP and some lucky ones got AAPL. You will need to sign-up initially either with a phone number or e-mail address, and then open an account after downloading the app (Android or iOS). Webull is a real SIPC-insured broker, and the application is the same (name, address, SSN, work questions, investing experience questions, etc). I did not have to make any deposit, make any trade, or even link a bank account to receive my free share of stock. My account was approved and I claimed my free share within 12 hours.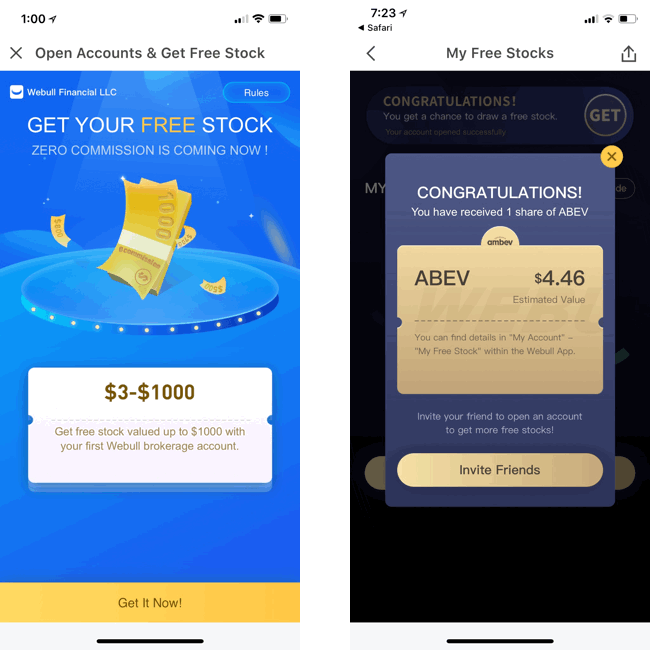 (Note: I opened a cash account. Margin accounts will require a minimum balance of $2,000. I believe this requirement is the same for all brokers.)
Robinhood vs. Webull. This is a natural comparison. After poking around, I would say that Robinhood definitely has a sleeker user-interface, which should appeal to younger users and those who want a simple trading experience. Robinhood looks designed from the ground up to be an app. Meanwhile, Webull is more of a traditional full-featured brokerage account with more serious tools like charting, technical indicators, and stock screeners. This means that the Webull interface is more "busy" because it contains more information, but active investors may want all that extra information.
Webull also has customer service available via Live Chat or phone number. Robinhood only has an e-mail address.
This is also evident in the business models. Both will make money from normal users via interest on cash balances and selling order flow. Robinhood's premium features basically let newbie users access a simple version of margin (pay flat fee instead of interest rate). Webull has traditional margin accounts that allow shorting, and makes money by selling subscriptions to advanced Level-1 quotes so serious traders can get the absolute best bids and offers across any of 13 different stock exchanges.
Bottom line. Webull is a new entrant to the world of free stock trading apps. The feel is more of a full-featured traditional brokerage account in app form as compared to competitor Robinhood. The free trades are the real draw, but new users can also grab a free share of stock worth up to $1,000 (but probably $5). It's like a free lottery ticket, so why not?
Webull App: Free Stock Trades + Free Share of Stock Referral Bonus from My Money Blog.
---
© MyMoneyBlog.com, 2018.